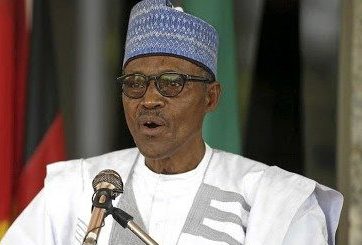 President Muhammadu Buhari has approved an enhanced salary structure for the Nigeria Police Force, NPF, assuring that his administration will continue to pay attention to the welfare and operational needs of the force.
Senior Special Assistant on Media and Publicity to the President, Garba Shehu, made this known in a statement on Monday.
According to the statement, the president announced the approval in the State House, Abuja when he played host to the members of the Nigeria Police Service Commission and the leadership of the force who were on a "thank you" visit to him.
The statement said Buhari expressed his administration's commitments to restoring the lost primacy of NPF in the internal security framework of the country.
He was quoted as saying that the inability of the police in performing their constitutional role as the front line force in the prevention of crime, had led to military involvement in the maintenance of law and order throughout the country.
"From Taraba to Sokoto, to the South-South, people don't feel secure until they see the military.
"I am pleased to make the increase in salary and allowances in the hope that it will increase the performance index of the police and strengthen Nigeria's internal security system," he said.
According to him, the more efficient the police is, the more confident the government and citizens will be.
The President posited that the military should be reserved for higher tasks noting that the police should be able to cope well with the lesser challenges of armed robbery, kidnapping for ransom and such crimes.
He also talked of the need to amplify the question of more men of the police, given the condition the country was currently in.
He highlighted the current challenges facing the nation as emergency in the North-East and pervasive insecurity and abduction for ransom and banditry in many parts of the country.
READ ALSO: I will Reclaim our Mandate- Ademola Adeleke
"I congratulate you on the success you recorded against criminals taxing people and stopping them from their farms. We are expecting more from you," the president told the police leadership.
Chairman, Police Service Commission, Musiliu Smith, represented by Justice Clara Ogunbiyi (rtd), informed the president that the rank salary structure adjustment would enhance police welfare and morale while the Inspector General of Police, Ibrahim Idris, assured that the police would redouble efforts to ensure free, fair and credible elections throughout the country next year.
By President Buhari's approval of the Rank Salary Structure Adjustment, salaries, allowances and pension of policemen will be increased.