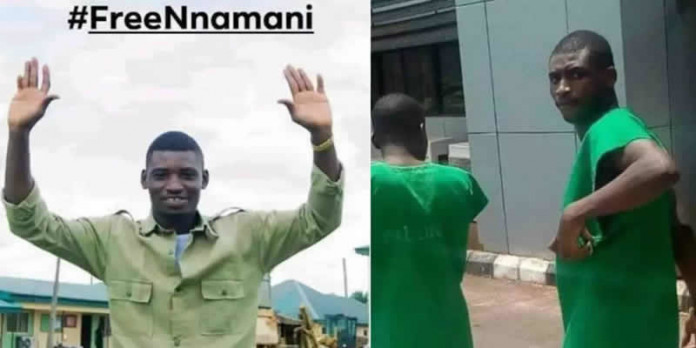 A Corps member identified as Chijioke Nnamani has been reportedly imprisoned for criticizing management of his former University.
According to a report that has since gone viral on social media, Nnamani was allegedly arrested and jailed after he made a post on social media, calling out the school he graduated from, over their alleged poor treatment of their teaching staff.
According to another viral posts circulating on twitter calling for the release of Chijioke Nnamani, with the trending hashtag #FreeNnamani, the man is billed to appear before a Federal High Court in Awka on Monday, May 13.
Trouble started for Nnamani after he published a post on social media that read:
"GOOD LECTURES ARE SCARCE, MADONNA UNIVERSITY ADMINISTRATION SHOULD BE NICE TO HER LECTURES OR A GOOD NUMBER OF THEM WILL RESIGN."
READ ALSO: UMTE: 15-year-old Ekele Emerges Highest Scorer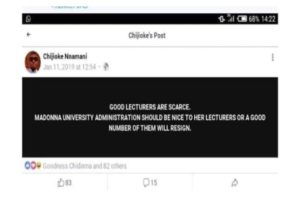 Friends and family are now calling for his freedom, one of them wrote:
"How can this Young youth be imprisoned simply because he criticized his former school Madonna University for not having good lecturers… He will be in Fed High Court Awka on Monday…. Kindly Retweet till #FreeNnamani trends"
Nigerians while reacting to the corps member's arrest and detention, have decried that rate of injustice being perpetuated across the country by the law enforcement agencies that are saddled with the responsibilities of upholding the law.
Within Nigeria