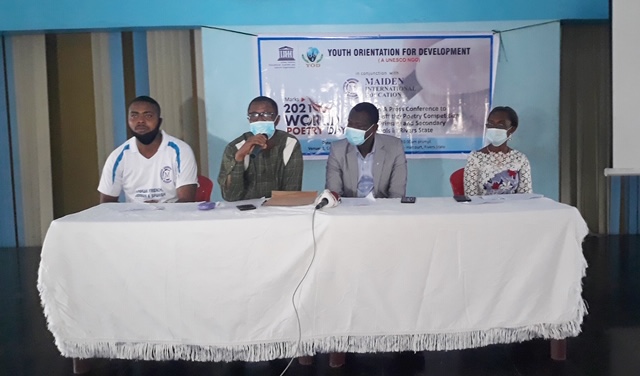 The Youth Orientation for Development (YOD) says it is concerned over the dearth of study of poetry in Nigerian primary and secondary schools.
YOD is a non-governmental organisation of the UN Educational Scientific and Cultural Organisation (UNESCO).
President of the group, Emmanuel Ejiogu, raised the concern in Port Harcourt on Saturday at the kickoff of a poetry competition for schools in Rivers, in commemoration of  2020 World Poetry Day.
He said the group decided to organise the poetry competition, in collaboration with Maiden International Group, to reverse the seemingly disinterest in the study of poetry in schools.
"The competition is beginning today in celebration of the 2020 World Poetry Day which seeks to encourage a return of the oral tradition of poetry recitals and teaching of poetry.
"Also, the day aims to restore a dialogue between poetry and the other arts such as theatre, dance, music and painting.
"To achieve this, we put together a poetry competition for schools in Rivers state with the intent to discover young, creative and talented children, so as to reverse the trend.
"The competition is to provide pupils and students a platform that will help them showcase and develop their talents for the benefit of all," he said.
The competition, Ejiogu said, was open to all primary and secondary schools in the state.
He added the contest would also seek to draw the attention of students to the need to promote and appreciate their culture and languages, especially languages facing extinction.
According to him, no society can function effectively and bring about certain progressive changes without poetry inclined arts.
READ ALSO: Why Buhari Removed Me As CJN – Walter Onnoghen Speaks
"We believe that poetry can be used to preach the message of peace and unity in Nigeria,  especially at this time when there are strong divisions along ethnic and religious lines," Ejiogu added.
The group's Director of Programme, Mr. Euriel Momah, said the competition was grouped into three categories, senior and junior secondary schools and primary school.
He said the senior secondary students would write poetry on: "Unity in Diversity"; junior secondary on "My Nation, My Bride" while pupils in primary schools would write on "We are strong as one''.
"In each category, the winner will go home with N50,000, second place school N30,000 and third will be presented with a cash prize of N20,000, among other consolation prizes," he said.
March 21 is celebrated internationally as World Poetry Day, which highlights linguistic diversity through poetic expression and provides opportunity for endangered languages to be heard. (NAN)