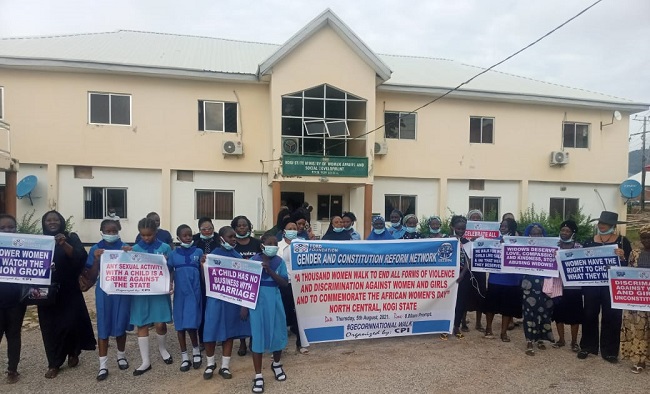 Women in Kogi, on Thursday, trooped out in their numbers, calling on government to reinforce the campaign against Gender-Based Violence (GBV) and ensure fair representation of women in governance.
The women, numbering over 500, besieged the State Ministry of Women Affairs and Social Development premises in Lokoja.
Speaking on their behalf, Ms Eunice Agbogun, State Coordinator, Gender and Constitution Reform Network, (GECORN), said the march was to commemorate the 2021 African Women's Day.
Agbogun called on government and all well-meaning people to stand up against negative stereotypes and norms that tended to hinder and retard the African woman economically, politically, and socially.
She said that the 2021 theme, which was centred on global campaign for the Elimination of Violence Against Women and Girls (VAWG), was aimed at changing the widely accepted norms that often justified violence against women and girls.
Speaking on gender equation in politics of the state, she said they were  not satisfied that only one woman was a commissioner in the state cabinet.
She also observed that there was no single female member of the  State House of Assembly, adding, "we want this narrative to stop."
She called on the state government to assent to the Violence Against Persons Prohibition, (VAPP), a bill that was passed into law by the State Assembly recently.
Also speaking, Mrs. Lilian Okolo, State Chairperson, International Federation of Women Lawyers (FIDA), said most states in the country had passed the VAPP bill.
She, therefore, called on Gov. Yahaya Bello to toe the line by assenting  to the bill.
Hajia Fatima Buba, the State Commissioner for Women Affairs and Social Development, said the African Women's Day, was set aside to acknowledge African women who played vital roles in building the African continent.
READ ALSO: Osun: International Breweries Lauds Oyetola, Hails Osun's Enabling Business Environment
Buba urged Kogi women to be actively involved in politics to brighten their chances of clinching elective positions.
The Women Affairs Commissioner however assured that the VAPP bill would soon be assented to by the governor and it would become operational in Kogi and other states.
NAN reports that representatives of women associations including NCWS, NAWOJ, FIDA, FONWAN, GECORN, Gender-based NGOs, Christian Women Associations, Market Women Association, and Widows' Associations featured.(NAN)