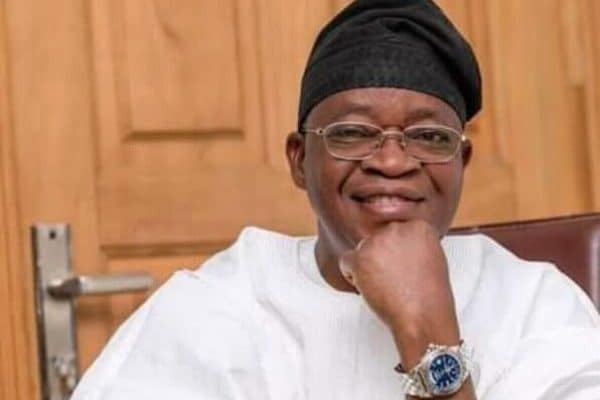 The management of International Breweries Plc. has lauded Governor Adegboyega Oyetola of the State of Osun for his pragmatic approach to piloting the affairs of the State, especially in the areas of resource management and allocation.
The group especially commended Oyetola's response management of COVID-19 in the state.
During a courtesy call on the Commissioner for Information and Civic Orientation, Mrs Funke Egbemode, the International Breweries delegation led by the Director of Legal and Corporate Affairs, Mrs Temitope Oguntokun, described Oyetola as a proactive leader who knows how to deploy timely intervention.
Oguntokun also used the opportunity to pledge the support of the company, which celebrates its 50 years of existence, to the government of the State of Osun.
In her remark, the Commissioner for Information and Civic Orientation, Mrs Funke Egbemode, lauded the company on the occasion of its 50th year of existence, adding that its socio'-economic impact in the state has been tremendous over the years.
"We commend the management of International Breweries for its tenacity of purpose in keeping the organisation's vision and aspirations aloft in the last five decades.
"The State of Osun is blessed to be home to one the few businesses in Nigeria that have outlived their founders and is still thriving. International Breweries Plc., started small and has grown steadily. It is even older than the state, which celebrates 30 years of its creation in a few days.
"The state has waxed stronger over the years and especially in recent years under the leadership of Governor Adegboyega Oyetola, who cares so much about the wellbeing and security of both its corporate and individual citizens.
READ ALSO: PDP Governors Call For Calm As Seven National Officers Of Party Resign
"From infrastructural developments to the feeding of 30,000 poor and vulnerable citizens on a monthly basis, Governor Oyetola has continued to place premium on the issue of citizen's wellbeing in the state.
"International Breweries Plc, as a corporate citizen, is enjoying a good operational climate in Osun because it feels safe in the state, and Governor Oyetola has continued to invest efforts at maintaining the enviable peace profile of the State.
"So, it's a win-win situation for both the government and the organisation. We hope that the organisation will continue to have even greater socio-economic impact on its environment in the years ahead", Egbemode said.