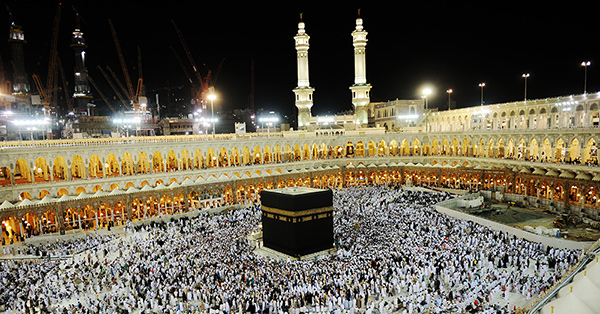 The World Health Organization, WHO, has commended the successful efforts of the Kingdom of Saudi Arabia, represented by its Ministry of Health, during the 2019 Hajj season as no fewer than 500, 000 pilgrims received free medical services.
Reports from the Centre for International Communication, CIC, an arm of the kingdom's Ministry of Media indicates that this year's Hajj operations were concluded without any public health issues or disease outbreak among pilgrims being reported.
"This year, the Ministry implemented, in cooperation with WHO, the electronic early warning system for health events and epidemic diseases. A team of the international organization visited health centers and hospitals in Mina, Muzdalifah and Arafat and learned about the work done on the ground, noting that the field visit proved that the early warning system is in place and functioning well," the CIC said in a statement made available to newsmen.
WHO Representative in Saudi Arabia, Dr. Ibrahim El-Ziq, said: "We saw that hospitals were well prepared and we saw their desire to serve the pilgrims. We also saw different sectors working together to support the pilgrims. We saw the Ministry of Defense supporting the Ministry of Health, in terms of transporting patients from King Abdullah Hospital in Makkah to Arafat, so that these patients can complete their Hajj.
"So all in all it has been a very successful season. We congratulate the Ministry of Health on a successful Hajj. There is no reporting of any infection or serious issues related to the public health."
According to the Saudi Minister of Health, Dr. Tawfiq bin Fawzan Al-Rabiah, a total of more than 1.69 million pilgrims who passed through airports, land border points and sea ports this year benefited from preventive and ambulatory services (including vaccinations) in the health outlets set up by the ministry.
The Minister also disclosed that about 500,000 pilgrims received medical care free of charge in hospitals and health centers in Makkah and Madinah and the holy sites between July 4, when the Hajj season started, and Tuesday August 13.
According to the ministry, more than 4,200 pilgrims have been admitted to hospitals. A total of 36 open heart operations and more than 750 cardiac catheterizations were performed in Makkah and Madinah hospitals, and 600 different other surgeries, while 12 births have been recorded to date. A total of 1,998 dialysis operations and 103 endoscopic operations were reported up to Monday by the ministry.
According to the CIC, about 30,000 Ministry of Health personnel were involved in serving the pilgrims during Hajj. In all, 25 hospitals were set up in Makkah, Madinah and the holy sites with a total capacity of 5,000 beds. There were also 142 primary care centers in addition to more than 140 mobile clinics, in places where pilgrims gathered.