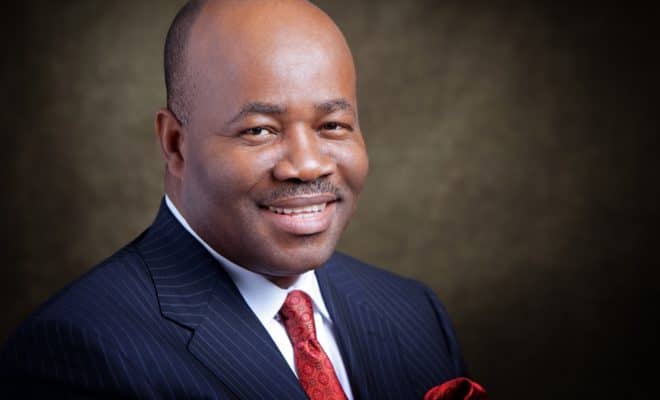 The Northern Youth Group, NYG, has commended President Muhammadu Buhari for appointing former governor of Akwa Ibom State, Senator Godswill Obot Akpabio, as Minister-designate.
Speaking on behalf of the group, its National Secretary, Mr. Aliyu Suleiman Jatau, urged the Ministers-designate to justify the President's confidence in them through hard work and selfless service to the nation and Nigerians.
The group particularly noted that Senator Akpabio's appointment was a validation of his nick name as the Uncommon Transformer, adding that "there's no doubt Senator Akpabio will provide the necessary impetus for pushing this government forward."
They lauded President Buhari for his successes in handling what they termed "daunting national challenges faced by Nigeria."
The group described the 43 ministers-designate as progressively minded men and women of quality, whom they believe would steer the affairs of the nation to greater heights.
"We wish to urge the successful ministerial nominees to exhibit extreme patriotism, dedication and hard work in justifying the trust placed by Mr. President on them.
"We hope that they will put their experiences to use and deliver the dividends of democracy to Nigerians.
"We wish to thank the President for nominating Senator Godswill Obot Akpabio. The Senator's nomination shows that Mr. President indeed wants very capable individuals to be part of his government.
"This nomination also validates the over action view that the leader of the uncommon transformation is indeed a justification of vision and hard work.
"No doubt Senator Akpabio will provide the necessary impetus for pushing this government forward."
The group also described as laudable the re-appointment of the former Attorney-General of the Federation, Abubakar Malam, SAN, former Minister of Education, Adamu Adamu and Lai Mohammed, as Ministers.
They described the them as "men of proven integrity and patriotism" and expressed confidence in their ability to propel the country forward.
The NYG commended the National Assembly for the accelerated screening process, which they said showed that the Senate had the interest of Nigerians at heart.