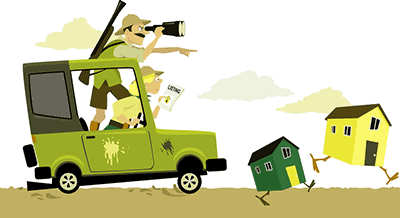 House-hunting in Lagos is an extreme sport and most often not a joyride. It's very time consuming and can be very frustrating especially when you are keen on getting your choice of apartment.
Most times, it's the stress and frustration of just settling down that make most "house hunters" to make hasty and often bad decisions.
Making hasty decisions as a house-hunter in Lagos can lead to months or years of regret. Some of the times, people have a perfect picture of the apartment they would want but they neglect those little clues that could make their stay in the apartment uncomfortable, which can lead to months or possibly years of regrets.
How do you avoid falling a victim of making a regrettable decision? Its simple! You have to do the right thing at the right time.
Here are some helpful tips to have in mind when searching for that dream apartment:
Location and Budget:
Before going into house-hunting, it is expected that you should be very conversant with what you really want or have an idea of what you really want to have.
Do you want a two-bedroom apartment? A three-bedroom apartment or even a self-contained? Once this decision is settled, the next step is to search for a location because the location is what determines your budget bracket.
In Lagos, the house rents differ depending on the location. The price of a house in Egbeda cannot be the same as the one in Lekki. Location plays a crucial role in house-hunting, it determines how well you will enjoy or regret your stay in your new apartment. Therefore, you need to consider how close it is to your work place, is it in a remote part of Lagos? Is it close to the major market? If you aren't sure, make findings from people who live in that area.
Inspection of the House:
During house-hunting, it is important for you to see the house by yourself. Do not depend or base your judgement on pictures from landlords or agents. You need to take your time to inspect the entire building carefully. If possible, it's better to house-hunt during rainy season as you will be able to check the house for any leakage and the roads for floods. The worst that can happen to anybody is to live in a house and be watching the weather forecast.
Another thing to inspect is the ceiling, the piping system and cracks on the walls. Also check for cellphone reception in the house. You could be using Airtel, while that area does not have Airtel reception. Do you really want to take that risk? Ensure that the basic amenities like tap fittings, toilets, kitchen, and sockets for fans, air conditioners are actually functional. As a matter of fact, you should go to the house with a list of things you wiuld want to inspect.
READ ALSO: Lack of Education, Poverty, Driving Illegal Migration
Check Out the Neighbourhood:
Although the location and neighbourhood are similar, it's advisable to check out the neighbourhood. How serene or lousy is it? Is it in a gated Estate? What facilities can be found within? Is it properly landscaped? How is the electricity supply? Is it in a secured neighbourhood? Are the drainage channels properly covered? Do they have social amenities including hospitals, schools, shopping malls and churches or mosques, etc.? These are important questions you should ask.
Meet with the landlord:
This is a step you shouldn't miss to follow. It's important to know how the landlord relates with his tenants especially the live-in landlords. In Lagos, there are lots of crazy landlords who can make life miserable for tenants, meet with the landlord and get to relate and engage as well as ask all the relevant questions you need to ask about the house.
Another reason you may need to see the landlord is that some agents inflate the prices of properties so as to have more money as agency fees to themselves. If you get to deal with the landlord directly, you may be able to avoid such incidences.
Tenancy Agreement and Receipts:
With regards to renting an apartment, it is important to take time and read through the tenancy agreement before signing any document. This isn't a process you should rush, even though some tenancy agreements could be quite lengthy and confusing, you can get your lawyer to read through it because whatever you put your signature on can be used against you anywhere.
Another crucial factor is the 'receipts.' After the necessary payment has been made, ensure you collect your receipt. This is what serves as your proof of payment. Your receipt should have your name and that of the landlord, the date of payment, amount paid and length of time the payment would last.
In case, you have a little more time, check out what the law says about renting a house in Lagos. How many years to pay for and so on?
These are the essential tips you need know when going on the next house-hunting in Lagos and probably any other city in Nigeria.
Good luck!