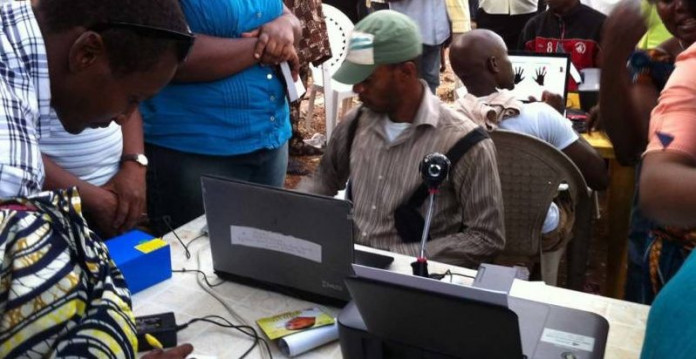 As the 2019 elections inch closer, our Correspondent, CHINWE MADUAGWU, looks at the current voters' registration exercise and reports that it is being trailed by a lot of confusion and complaints.
To vote and be voted for is the civic right and responsibility of any, and every right standing member of the society. That is why registration is open to all adults; in Nigeria that means people from 18 years and above.
Towards the 2019 elections, the voters' registration exercise is on-going in all the states of the Federation and the Capital Territory. The exercise according to INEC officials has been on since April 2017 and based on the Senate's pronouncement will end 60 days before the first election, which is the Presidential election fixed for February 16, 2019.
To hear this, one would think that everybody interested in registering would have ample opportunity to do so. But unfortunately, that is not the case. Things are not as easy or simple as they sound. It's been almost a year since the exercise began, yet many people are not aware that such an important exercise is on-going.
The Next Edition ran into Mrs Ijeoma Ukwu close to the registration centre at Mushin, Lagos, on January 31, the day the exercise had originally been rumoured to end and sought her views on how the exercise was going. Her response; "you mean voters' registration to vote in next year's elections? Have they started? I am hearing it for the first time from you. Please where should I go to register?"
For those who somehow managed to find out that such an exercise was being carried out, those in charge of the exercise seem determined to frustrate their attempts at registering.
For Ms Nelly Ohuche who resides in Abuja, her attempts to register have been unsuccessful so far. Hear her, "I still haven't been able to register yet. I got to INEC Office at Karu at about noon but was told that I had to be on queue by 4a.m if I wanted to be attended to.
"However, I met a young man there who said they got there at about 4a.m, he was number 35 on the queue. He was given a form to fill out his details, as at noon, he hadn't been attended to.
"I haven't gone through with the process since I can't either shelve work to be on the queue an entire day, or risk living my home that early for security reasons."
Ms Ohuche was of the opinion that if things continued this way a lot of people may not register and, therefore, won't be able to cast their votes. Her words, "considering the stress of going through the process, a huge number of people won't be able to register thus get disenfranchised. I feel the process is being sabotaged by the INEC officials maybe unintentionally."
For Mr. Columbus Iroegbu who resides in Lagos, the journey was long but he was determined. His story; "I started the process in June last year. I first went to my local government, which is Mushin. It was there that I was referred to where they were doing the registration for the local government. I made several attempts whenever I was off duty but couldn't succeed so I didn't bother again. Then in December, I heard that they were still registering and I went back to try my luck.
"The first day I got there about 11a.m and I was told to go back because I had to be there about 6a.m to write my name so I left. A second time I went and was able to write my name but around 2p.m the officials told us they had closed for the day, that we should come back the next day. One of the officials, an elderly man, in fact, told us that they would register only those between the ages of 18 and 25. Some of the people there almost beat him up if not that another staff came to pacify them.
"To cut the story short, I still wasn't able to register in December but finally in January, I was able to register. If not that I had made up my mind that this time I would register, I would not have bothered going through all the stress and I honestly, don't see many people going through all that stress just to register to vote."
A few weeks ago, The Next Edition visited Megbon Primary School, Mushin, the only registration centre for the entire local government. When our correspondent got there at about noon, there was a long queue of people waiting to register with only two machines for the crowd and perhaps the entire local government.
Some of the people there complained about the time spent waiting to be attended to and lack of publicity for the exercise.  One of them shared  with us how they got to know about the centre. Mr. Chris said he had registered at Yaba during the last exercise but didn't get his permanent voter's card. On how he came to know about the current exercise, he said, "somebody posted something about it on a WhatsApp group I belong to and said the exercise would end on January 31, 2018, but the message didn't mention Megbon Primary School. I checked the centres listed by INEC and one was close to my residence at Ilasamaja so I went there but nothing was happening. It was when I called a friend in the APC that I got to know of the centre and that was how I came to be here."
He lamented the fact that one had to come as early as 6a.m just to register alleging that it was all a deliberate effort to frustrate people "so that they (the politicians) can give the cards to their supporters."
On a second visit to Megbon Primary School on January 31,  to further assess the exercise, our Correspondent found the place deserted and the classroom used by INEC officials under lock and key. In the company of two gentlemen who had come to register, our Correspondent sought information from some food vendors in the school who directed that we go to INEC office.
Getting to INEC's office at Oluyide Street, Mushin, we were told that the registration exercise had moved to another venue. Why it moved, they could not or would not explain to our Correspondent. There were also no apologies to anybody for any inconvenience. However, they were magnanimous enough to tell us that the new centre was St. Martins Primary School, Damangoro Street, off Post Office Road, Mushin, Lagos.
READ ALSO: Senate floors Magu in court
Mr. Donald one of the gentlemen we ran into complained bitterly about the stress he had gone through to ensure he got registered. Hear him; "I got here around noon the other day and was told they had closed. Which government worker closes by 12 noon? Today, again I'm here and they are not here. There is even no information as to why they are not here or where they can be found. Why are they suffering people like this?
"The other day I came, I met one girl crying that she had only come to collect her temporary card, that the day she registered they were told by the INEC officials that they had run out of ink so they couldn't print out their cards. And the girl said her oga would not allow her to leave the office again because of the voter's card," Donald explained further.
According to him he still had the temporary voter's card issued for the 2015 elections. All he wanted was to find out if that was still valid so he could push for a permanent one and if it wasn't re-register. Mr. Donald told our correspondent that if not for the fact that he wanted the card for identification purposes, he wouldn't bother adding; "who do I want to vote for? Is it not the same cabal? Whether we vote or not, they will still rig whoever they want into office."
From Owerri, Imo State, Mr. Emeka Nwaneri, said he heard about the exercise from an announcement made in his village church that INEC officials would be in their Ward the week ending February 3rd. But as at the time of sending in the report, they were yet to come. He, however, owned up that he does not listen to the government owned Radio and Television stations so was not in a position to know if they had been announcing the exercise through those media.
Given the time left before the end of the exercise is there a way to do it better and perhaps publicise it? Mr. Donald suggested that there should be more than one registration centre in a local government. Also, he said INEC should place adverts on radio and television and put up billboards telling people where to go and register and when the registration would end.
Ms Nelly Ohuche had this to say; "I think not so much is being done in terms of publicity especially at the grassroots. I would suggest that more registration centres be set up, spread across the various local governments and districts to reduce the stress. It should be made less cumbersome so people can do a walk-in and complete the process in a few minutes.
"There must be intelligent ways of getting this done without stress. There could be special arrangements with corporate organisations and religious bodies for mobile registration centres so registration could be brought closer to the people. That way no one has an excuse not to get registered," she said.
Mr. Columbus Iroegbu supported the view that the exercise has not been given enough publicity. "The exercise is very cumbersome and not enough publicity has been given to it especially as to venues for registration. The officials doing the registration should resume work early. They don't come till about 10a.m meanwhile, they want people to queue from 6a.m. If they resume around 8a.m like civil servants and close around 4pm, they will be able to register more people in a day unlike when they resume around 11a.m and close around 2pm."
The need to publicise the voter's registration exercise cannot be over-emphasised; it is the least INEC and agencies like the National Orientation Agency can do. Irrespective of tribe, religion or party affiliation, it is an inalienable right of every adult who so desires to be registered and instead of ensuring this happens, government through her agencies seem to be  putting stumbling blocks before the people. This, therefore, begs the question; is there truly a hidden agenda?