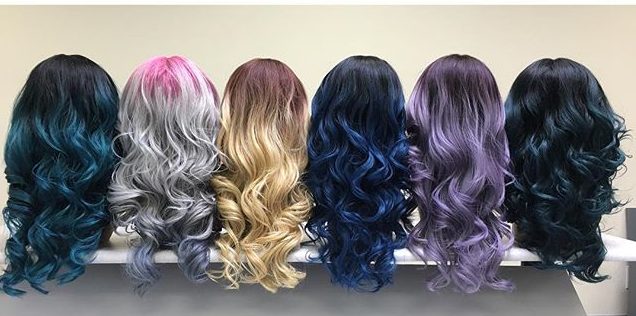 At a certain time, wearing wigs was looked upon as a taboo or at the very least an embarrassment. These days though, wigs seem to have made it back with a bang and from all indications they are here to stay. Ladies are no longer shy to admit that they are using wigs and the men have become fully aware and have also come to accept that the long silky hairs their babes are sporting are not natural to them.
But how cheaply do these wigs come? According to Ms Salome Igbinosa, a Wig Maker, the cost depends on the quality of the wig. A synthetic wig she said can be bought as low as N5,000 depending on the type. She disclosed also that a fibre synthetic wig is more expensive than a regular synthetic wig. For the human hair Ms Igbinosa said they can come as low as N35, 000 depending on the length, texture and the gram (weight) of the wig.
She, however, disclosed that the cost of the human hair wigs sometimes depends on where they are sourced from, whether processed or unprocessed as well as the bargaining power of the buyer. She mentioned Vietnam for having nice quality hair.
What makes wigs the preferred hair style for ladies? Most of the ladies we spoke to our correspondent said the primary reason was convenience added to the fact that it is in vogue.
"I wear wigs for the convenience it affords. It also allows for me to change up my look whenever I want. Certain dress styles require a different hair style, wigs allow me to do that," Princess Imo, said.
Ms Igbinosa said; "I actually wear wigs because I don't like sitting down to get my hair done so wigs are just it for me. Normally, when I fix my hair I wear it beyond two weeks, that is if it lasts that long. A good wig (human hair) can last you till it goes out of fashion if you know how to maintain it.
So how does one ensure the wig lasts? Experts say it all boils down to maintenance. Following are some tips on how to preserve your wigs.
READ ALSO: Beware of sex dolls, expert warns
Shampoos and Conditioner:
There are shampoos specifically for wigs. Invest in these if you want to get benefit from the money spent on your wig. Regular shampoos are too harsh for wigs especially for synthetic wigs. Soak your wig in shampoo and water and gently comb in the conditioner. Always rinse with warm water and comb out tangles with a wig brush.
Hair Spray:
Avoid over-use hair spray. The continuous usage of hair spray or any other spray to shine your wig makes it greasy and soon you won't be able to manage it.
Drying:
Avoid heat as a means of drying your wig; for synthetic wigs, using heat on it will melt it. Stick to air drying. Avoid the use of excessive heat when styling your wig. To achieve curls, using curlers will get the job done as well as preserve the wig's life span. If you are unsure of how to style your wig, give it to a professional to be on the safe side.
Do not sleep or shower with your wig on:
Do not sleep with your wig or shower with it; sleeping with your wig on encourages tangles and detangling causes damage. While washing is required, using it while in the shower is also a huge no no.
Keep it properly:
Keep your wig covered and upright when not in use; most wigs come with a net cover, keep your wig in this cover when not in use. This keeps it safe from dust that could also cause damage to it.