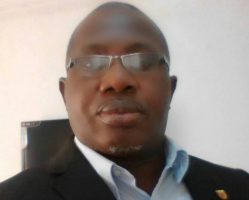 Eagles' prolific 1980 Nations Cup winning left winger, Adokiye Amiesimaka , will live to always remember how playing for Enugu Rangers saved him from armed robbers who stormed his Port Harcourt home many years after he left the Coal City team.
Amiesimaka, in 1978, became the first non-Igbo to join Rangers. In the CAF Champions League of that year, the club lost to Canon Sportif of Cameroon, 6-5 penalties, in the semis. That same Yaounde team lost in the finals of the Africa Winners Cup in the previous year to Rangers.
He won the Africa Nations Cup as a Flying Antelope a few months after losing in the grand finale of the WAFU Cup to AS Police of Senegal in Dakar. The quartet of Christian Chukwu, Aloy Atuegbu, Patrick Ekeji and Amiesimaka flew in from Brazil for that all important game.
Keeper Emma Okala stayed away choosing to remain with the Eagles after the training tour of Brazil. Rangers travelled without a coach because the NFA played pranks with getting a visa for Brazilian, Carlos Alberto Perreira, who was seconded from the national team. Ekeji had to turn to Emergency Manager.
The same Carlos Alberto, who was frustrated by the NFA and Eagles coach, Otto Gloria, took Brazil to World Cup victory 14 years later in 1994. Amiesimaka would later join Sharks of Port Harcourt, before hanging his boots.
Dare devil robbers invaded his house, in the Garden City, stripped the whole place bare and were about leaving when one of them noticed a photograph hanging on the wall of the living room. There was Amiesimaka, in Rangers colours. That saved the day.
" You played for Rangers?, the marauder asked. "Yes, I did", the star footballer responded. All that had been taken out of the house was returned and the unwelcome visitors apologized before leaving without even a pin.
Amiesimaka's stay in Port Harcourt remains favourable. Nicknamed 'Chief Justice' by ace commentator, Ernest Okonkwo, he eventually became Rivers State Commissioner for Justice and Attorney General. And that was from the rank of Director of Public Prosecutions[DPP].
Fluent in Yoruba, Amiesimaka earned a degree in Law from the University of Lagos. As a member of the Green Eagles that missed the Argentina '78 World Cup by a whisker, he combined soccer with academics. That was how the nickname came.
Amiesimaka was also a formidable Academical. He was a member of the all conquering CMS Grammar School, Lagos squad of 1975 and 1976. The Bariga Bombers won Principals Cup in both years with the striker who played in the inside left position as Skipper in 1976.
In 1975, Amiesimaka was outstanding in the 6-2 humiliation of Ansar-Ud-Deen Grammar School in the semi finals of the Principals Cup. His left foot put in three goals, a hattrick, one of his many as a player. In the 1976 final, the Bariga Bombers defeated perennial cup holders St. Finbarr's College.
READ ALSO: Eaglets' coach tips Nigeria for CHAN trophy
From CMS Bariga to Unilag, Akoka, Eagles coach, Father Tiko, found Amiesimaka the perfect man to replace Kunle Awesu in the national team. The Shooting Stars forward was voted Africa's Best Left winger in 1976 following a Nations Cup bronze medal, the first time Eagles got something out of the competition.
It was a wise decision on the part of Tiko. The combination of Amiesimaka on the left and Segun Odegbami on the right created a strike force that threatened teams all over Africa. The left winger is an Olympian, thanks to Moscow '80 where the Eagles were knocked out in the first round but got a draw from eventual champions , Czechoslovakia.
Before Amiesimaka were Shedrack Ajaero, Olayiwola Olagbemiro, Jossy Dombraye and Ogidi Ibeabuchi. After him came Folorunsho Okenla, Humphrey Edobor, Friday Elaho and Emmanuel Amuneke.
Amiesimaka's experience with robbers sounds like what happened to one –time NFA Board Member and referee, Flt. Lt. Kola Olalere. Driving to Ojuelegba from Sportscity, Lagos one night in the 1980s, he had a flat tyre. Thieves came to attack him.
When they discovered his identity, not as an Air Force Officer but as someone who gave stipends to some ever present street urchins inside the National Stadium, the rogues helped him to fix his tyre, then escorted him to another bad spot where more thieves laid ambush and passed the military officer.
It also happened to self acclaimed Soccer Ambassador, Friday 'Kujah' Nwankwo. Robbers invaded his Lagos home not knowing who the occupant was. When they saw him, instead of firing shots, he received a standing ovation. His saving grace was simply that he bought them food somewhere in times past.