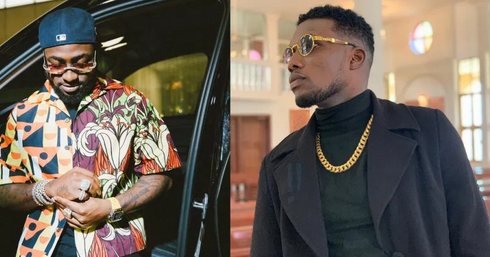 Upcoming artiste, Victor AD, has come out on Twitter to debunk claims that celebrity artiste, Davido, stole the song, Jowo, from him.
A Twitter user with the handle, Thuglife had claimed that Davido stole the song from Victor AD while recording another song.
He went as far as claiming that Victor was blocked on social media by Davido who also threatened to ruin him if he went public with such accusations.
The artiste tweeted, "Omo no be me write JOWO for @davido. I don't know where all this is coming from. make una let baba celebrate him 10yrs in peace #olofofo
We no dey chase clout for here! #olofofo #REDEYE."
READ ALSO: Nollywood Veteran, Genevieve Nnaji, Stars In New Audio Play "Fela Ten Twenty"
Davido's lawyer, Prince Ajudua reacted to the claims and set the record straight by revealing that Jowo was written by both Davido and Oladeinde Okubajo.
"As far as I know, Jowo was performed by Davido, written by David Adeleke & Oladeinde Okubajo aka @Davido & @Deindeofficial and prod by Jerry Jethro & Peter A. Kehinde Emmanuel aka Napji & Majicboi. That's as far as I know. Don't shoot me I'm just the guy that did the paperwork :).
"All this information is available on streaming platforms to see I believe. I'm sure you are all aware your fave has no issues whatsoever with giving full credits to his contributors. Fret not. Sometimes people just want to have fun. #WeRiseByLiftingOthers."