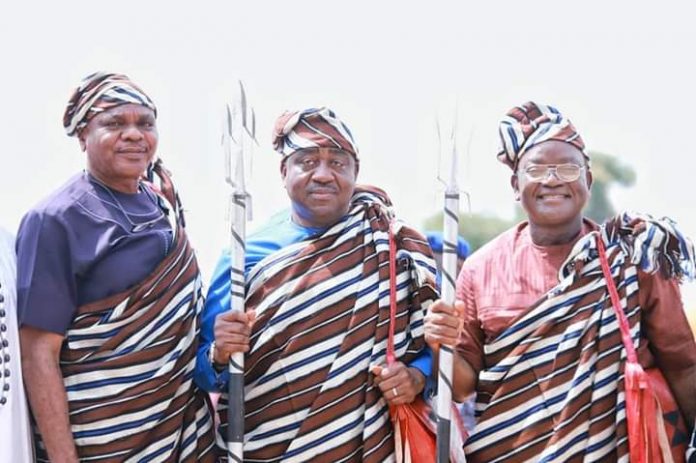 Ushongo Traditional Council has given royal honours to the state Governor Samuel Ortom and Senator representing Benue North East, Gabriel Suswam, among others over the restoration of Mata and Mbagwa State Constituencies.
The traditional council, which commended Governor Ortom, Senator Suswam and other stakeholders for their critical roles to the restoration of the two constituencies, attributed the feat to the unity of purpose between the governor and his predecessor.
Speaking in Ushongo Local Government Area on Friday, during the celebration of of the restored constituencies, the Tor Kwande, Chief Ambrose Iortyer, presented letters of commendation to Governor Ortom, Senator Suswam, member representing Kwande Ushongo Federal Constiruency, Bob Tyough, and Barrister Benjamin Wayo, for their support to the restoration of the two suppressed constituencies.
He also decorated them in Tiv traditional attires.
Responding, Governor Ortom stated that the Mata and Mbagwa as well as Agasha constituencies were restored out of over 150 of such cases across the country, stressing that the feat was worth celebrating.
READ ALSO: Antibiotic Resistance: Expert Alerts On Misuse Of Antibiotic
The Governor acknowledged the support of all stakeholders to the restoration of the suppressed constituencies saying it would bring representation and development closer to the people.
Senator Gabriel Suswam who acknowledged the enormous support of Governor Ortom to the cause, said the suppressed constituencies had been coded and elections would be conducted to elect representatives in the 2023 general elections.
Speaker of the Benue State House of Assembly, Mr. Titus Uba, Ter Ushongo, Chief Augustine Kuma, representative of Ushongo in the State Assembly, Abbas Akosu and Council Chairman of Ushongo, Joseph Asawa hailed the restoration saying it calls for celebration by all the people of Ushongo.
Chairlady of the occasion, Chief Mrs Keziah Agundu and former Majority Leader of the Benue State House of Assembly, Hycinth Nyakuma, also noted that they were grateful to Governor Ortom and Senator Suswam, adding that the restoration was the product of their unity.