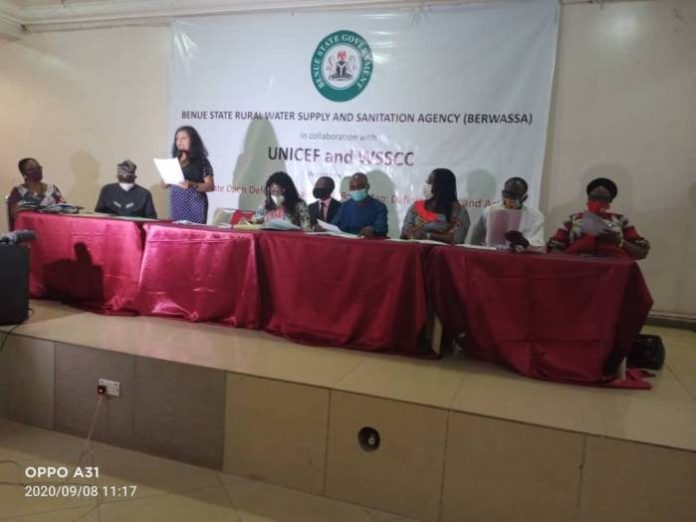 United Nations Children's Fund, UNICEF, has called for increased state leadership in strengthening the policy environment for creating an Open Defecation Free, (ODF) Benue by 2025.
The Manager, Water, Sanitation and Hygiene, (WASH), UNICEF, Enugu Field Office, Mamita Thakkar made this call on Tuesday, during the Benue Open Defecation Free (ODF) Roadmap Validation Stakeholders Consultation Workshop held in Makurdi.
Thakkar said Benue has already achieved Open Defecation Free status in six Local Government Areas while 17 LGAs which are yet to achieve this target, including at least 9 LGAs where no CLTS activities have started.
She recalled that "the NORM data of 2018-19 showed 50% of the population in Benue which is close to 2.9 million, practice Open Defecation and only 9% of the HHs have access to soap and water for handwashing. This is indeed not and encouraging picture.
"Business as usual will not work. We need rapid actions. We cannot simply pick up a few communities here and a few there and then hope to achieve ODF Benue by 2025. On one hand we need LGA wide actions and on the other hand we need to drive State wide actions.
"We need more collective efforts. UNICEF, NGOs cannot help with mainstream investments. The sector needs increasing State leadership in strengthening the policy environment, and stricter monitoring of results. Else 20 years later we will still speak of gaps and not the gains," she said
She noted that the Federal Government of Nigeria declared a state of emergency on the WASH sector and launched a National Action Plan (NAP) for the revitalization of the WASH sector in November 2018 with Sanitation as one of its 5 key priority areas for intervention.
She explained that the National Action Plan reiterates the fact that the provision of potable water supply, adequate sanitation and hygiene are primarily the responsibilities of State and Local Governments.
READ ALSO: Okowa Inaugurates Youths Parliament In Delta
Thakkar urged State government to get more involved in order to realize key objectives of the Benue ODF Roadmap which include to achieve ODF status in Benue State by 2025, with every person, everywhere having a safe place to use as toilet, establish the systems policies, regulations, and structures required for the attainment of the SDG target of safely managed sanitation by 2030.
Meanwhile, Benue State Governor, Samuel Ortom has lamented that Open Defecation has remained a huge problem in villages, towns and cities across the country despite concerted efforts by global organisations to nip the ugly trend in the bud.
Ortom said "Let me make it clear that Open Defecation is not only practiced by the rural dwellers. It is a huge problem in our villages, towns and cities," the Governor said.
He commended UNICEF and other donor partners for assisting the state attain the milestone it had achieved so far in the area of stamping out Open Defecation in the state.