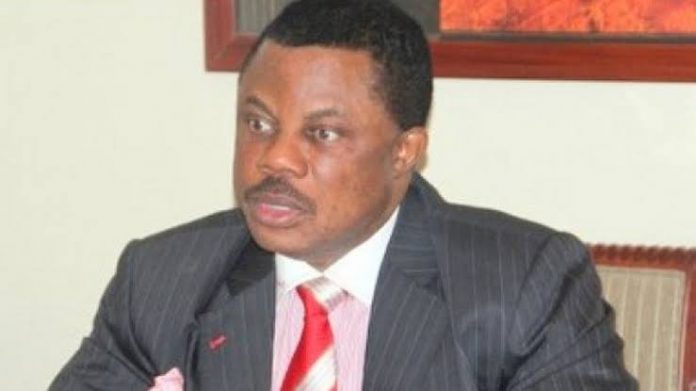 Mr. Chris Emeka Azubogu, the lawmaker representing Nnewi North, Nnewi South and Ekwusigo Federal Constituency in the House of Representatives, has sued for peace and understanding among various communities in Anambra State.
Azubogu's media office, in a statement made available to The NEXT EDITION on Friday, was reacting to the communal disquiet involving two sister communities, Omor and Umumbo in Ayamelum LGA of the state.
It would be recalled that the two Anambra communities had been in crisis over land disputes, resulting in the killing of one person and destruction of properties, leading to the imposition of curfew by Governor Willie Obiano.
Azubogu emphasised that destruction of lives and properties as a result of land disputes could not in any way define humanity, adding, "We are a republican people by nature who build understanding through community meetings, not war.
"Killings and destruction of properties reduces our humanity and going forward, we should shun both as means of conflict resolution."
Azubogu maintained that further escalation of the crisis would disrupt the farming season and this would have dire consequences, not only to the communities, but to the state.
READ ALSO: More Crisis in APGA as Anambra Lawmaker Defects to APC
He said: "Ayamelum LGA is one of the major food baskets in the state. If that area is allowed to be engulfed in avoidable strife at a time we should be evolving strategies to keep our post COVID-19 economy afloat, in which agriculture, would play a great role, that would be too unfortunate.
"Incidentally, we are already in farming season and crisis like this can only be an invitation to hunger."
The lawmaker expressed worry that just last month, Odekpe and Allah N' Onugwa communities in Anambra West LGA were involved in a bloody communal clash that left horrendous destruction in its trail.
Azubogu advised the state government to evolve and adopt a proactive approach that would nip such crisis in the bud instead of resorting to reactive measures after the damage is done.
His words: "I am so worried that just last month, two communities in Anambra West LGA, were enmeshed in a bloody crisis resulting from land dispute.
"Today, we are talking about disquiet in two other communities in Ayamelum LGA due to same land dispute. It is sad that all the communities involved are food baskets which roles in the food supply chain of the state cannot be overemphasised."