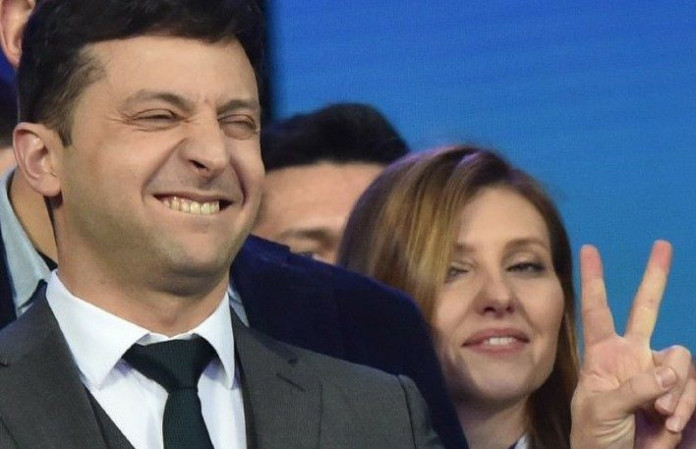 Ukrainian comedian Volodymyr Zelensky has scored a landslide victory in the country's presidential election.
With nearly all ballots counted in the run-off vote, Mr. Zelensky had taken more than 73% with incumbent Petro Poroshenko trailing far behind on 24%.
"I will never let you down," Mr. Zelensky told celebrating supporters.
Mr. Poroshenko, who admitted defeat after the first exit polls were published, has said he will not be leaving politics.
Political newcomer Mr. Zelensky, 41, is best known for starring in a satirical television series Servant of the People in which his character accidentally becomes Ukrainian president.
He told reporters he would "reboot" peace talks with Russian-backed separatists fighting Ukrainian forces and volunteers in the east.
"I think that we will have personnel changes. In any case we will continue in the direction of the Minsk [peace] talks and head towards concluding a ceasefire," he said.
Mr. Poroshenko, who has been in power since 2014, said the result of the election "leaves us with uncertainty [and] unpredictability".
"I will leave office but I want to firmly stress – I will not quit politics," he said.
Billionaire Mr. Poroshenko was elected after an uprising overthrew the country's previous pro-Russian government.
Russia annexed Ukraine's Crimea peninsula in March 2014 after a controversial referendum on self-determination – a move condemned internationally. Since then, Ukrainian forces have been battling Russian-backed separatists in the east.
In a tweet, Mr. Poroshenko said "a new inexperienced Ukrainian president… could be quickly returned to Russia's orbit of influence".
READ ALSO: Sri Lanka Explosions (Updates): More than 200 Killed as Churches, Hotels Targeted
But Russia's foreign ministry said Ukrainian voters had expressed their desire for political change.
"The new leadership now must understand and realise the hopes of its electors," deputy foreign minister Grigory Karasin told the Ria Novosti news agency. "This of course applies to domestic as well as foreign affairs."
French President Emmanuel Macron congratulated Mr. Zelensky in a phone call, as did Poland's President Andrzej Duda.
In a tweet, British Foreign Secretary Jeremy Hunt said: "You will now truly be the Servant of the People."
The US embassy in Ukraine tweeted its congratulations while European Council President Donald Tusk said the EU was "determined to continue its support" for Ukraine.
BBC