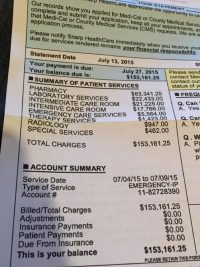 An American twitter user shared, a picture showing his payment statement which indicated that he was charged about $153, 161.25 for the treatment of a rattle snake bite.
Although the incident occurred in 2015 as the payment statement clearly indicated, the Twitter user with the handle "@indianschoolboi," only shared the story with his followers yesterday on Monday.
A summary of the charges shows that the drugs for the snake bite treatment cost about $83,341.25, the laboratory services cost $22,433.00 while the immediate and intensive care room cost $21,225.00 and $17,766.00 respectively.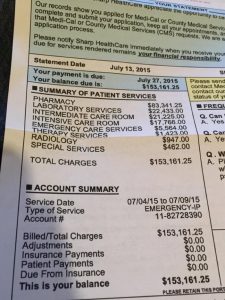 Emergency care services for the snake bite victim was put at $5,564, while therapy, radiology and special services cost the patient $1,423, $947 and $462 each.
All the charges put together amounted to $153,161, which is approximately N55 million when converted through Nigeria's official exchange rate.
Read also: Two suspected kidnappers burnt alive, others whisked away
It is however important to note that the snake bite victim did not have health insurance as clearly indicated in the statement he shared.
The statement showed that he had $0.00 due from his insurance as regards the payment for the medical services he received.
There has been a huge debate in the United States over the cost of healthcare and many believe even with the availability of health care insurance, more needs to be done to enable Americans access healthcare at affordable rates.
According to Congressional Budget Office (CBO), over 28 million Americans are currently uninsured and the number could increase to 54 million by 2026 if "Obamacare" is repealed and President Donald Trump's Health Care Bill becomes law.