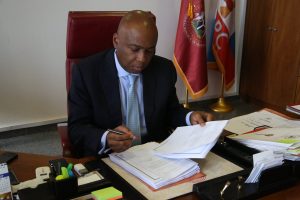 President of the Senate, Bukola Saraki, on Wednesday stated that Nigeria's university curriculum and teaching methods must be upscaled to reflect the demands of employers from both the public and the private sectors.
Speaking on the need for the country to urgently reposition its educational system to reflect current domestic and global realities like rising unemployment and the need to strengthen the economy to make the nation more competitive internationally, Saraki emphasized that many university graduates from Nigeria, were currently not being equipped with the appropriate skills that they needed to perform in employed capacities.
"This situation requires the urgent intervention of all stakeholders in the education sector," the President of the Senate said in a statement by his Special Adviser on Media and Publicity, Yusuph Olaniyonu, in Abuja.
Read also: U.S Citizen Charged N55m For Snake Bite Treatment
"What we have on our hands is an influx into the workforce of many graduates who are unable to meet the demands of both the public and the private sectors.
"In order to reduce the incidence of unemployment and make our country more competitive going into the future, we must immediately work to ensure the careful and constant realignment of what our young people are learning in the classrooms, with what the employers expect from them at the workplace," he said.
The President of the Senate also cited a need for a deliberate approach to boost reading, writing and comprehension, starting at the primary school level, as both skills were necessary in all sectors.
"Both reading and writing must take front and centre-stage in all that we do moving forward. It is clear that these two skills constitute the foundation of all other subject areas.
"This is why even before they get to university, we must ensure that our children know how to write — because this inability to convey their thoughts clearly on paper has become the bane of many young and otherwise bright Nigerians that are seeking employment, both within and outside the country," Saraki said.
The President of the Senate stated that at the resumption in September, the Senate would mobilize its relevant committees to work with education stakeholders to develop clear-cut strategies on how to move Nigeria's educational system forward.
"At this point, we can no longer sit by and watch our educational system slide below acceptable standard. Education is the bedrock of all development, and right now, our bedrock is faulty, so we must fix it," Saraki said.