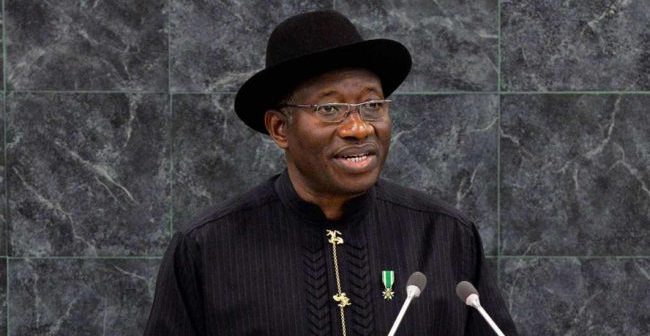 Former President Goodluck Jonathan has declared that notwithstanding the alleged falsehood being peddled to tarnish his image, he would overcome.
Jonathan made this declaration on his Facebook account on Sunday.
He said he had already been informed that a campaign of calumny would be made against him while away in Sierra Leone on international assignment, but he believed that the truth would always prevail.
His word: "It has been brought to my attention that while I am away promoting democracy in Sierra Leone, a campaign will be unleashed against me to falsely impugn my name using both faceless and identified persons.
"When I was in power I said my ambition is not worth the blood of any Nigerian. Even out of power, I continue to hold that belief.
"What I will say however, is that no matter how far and fast falsehood has traveled, it must eventually be overtaken by truth."
It would be recalled that Professor Yemi Osinbajo, had last week, claimed that the Presidency under Jonathan corruptly withdrew N150 billion two weeks before the 2015 presidential election.
Jonathan's media aide, Reno Omokri, has since denied it.
The latest, however, is the revelation about how money was illegally transported from the Central Bank of Nigeria, CBN, to the private residence of former President Goodluck Jonathan.
The former National Security Adviser, Sambo Dasuki, was said to have personally supervised the physical transfer of the money from the CBN vaults to the private residence of the former president.
READ ALSO: JUST IN: Sergei Mavrodi, founder of MMM dies at 62
In one particular instance over N70 billion was released in parts from the national treasury between January 8 and February 25, 2015, the report said.
The over $289 million which was also referred to last week by the vice president is said to be included in the series of illegal transactions.
In another illegal disbursement, the minutes of the CBN board meeting of 25th August 2014 indicated the board's approval of another N60 billion requested by the former president and released later by the CBN.
A Presidency source said the sum which was okayed by the CBN board was not tied to any project or procurement, and was meant and disbursed purely for campaign purposes, through the office of the then NSA and the State Security Services, SSS, leadership at the time.
Specifically that N60 billion that was okayed by the CBN on August 25, 2014 was said to have been shared between the two security agencies thus: N40 billion went to the NSA while N20 billion was released to the State Security Services (SSS).