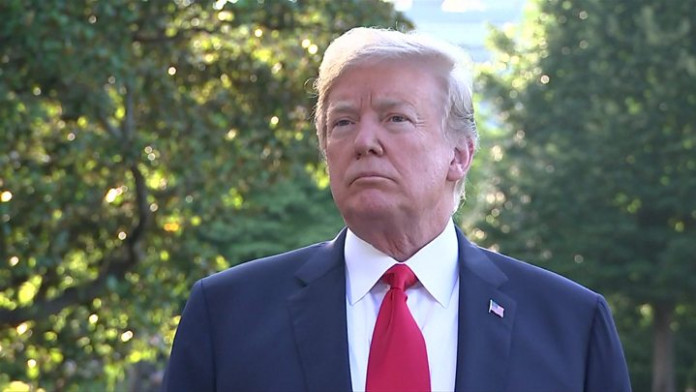 US President Donald Trump has threatened to destroy the economy of Nato ally Turkey if Ankara took a planned military strike in Syria too far, even though the US leader opened the door for an incursion.
Mr. Trump said he would "obliterate" Turkey's economy if it took action that he considered off-limits against America's Kurdish allies in the fight against ISIS, after his decision on Sunday to abandon them in north-eastern Syria.
But the Turkish Defence Ministry said on Twitter that all preparations for a military operation into north-eastern Syria were completed.
The ministry said that establishing a safe zone was essential for the stability and peace of the region and for Syrians to live in safety.
The US military said earlier on Monday that it was blocking Turkey from Syria's north-eastern airspace.
US defence spokeswoman Carla Gleason said that Ankara was removed from the anti-ISIS coalition's air forces co-ordination system.
A US State Department official told CNN: "We have shut down Turkish participation in the air. Right now we are controlling the airspace over north-east Syria."
It is unclear if the US would act to block Turkish jets in the area, or was only seeking to distance itself from Ankara's operation against the Kurdish-led militias.
Mr. Trump's move on Sunday marked a major shift in US policy and abandoned an ally in the battle against ISIS, which took over large areas of Syria.
On Monday, a senior US official appeared to contradict Mr. Trump's decision, saying that US troops would be moved within the country to keep them out of harm's way from Turkey's expected incursion.
READ ALSO: Trump warns Iran against restarting Nuclear Programme
The official said the US moves in Syria, including the dismantling of two observation posts on Monday, are "not a beginning of a pullout".
This went against Mr. Trump's tweet earlier in the day that the US would "get out" of the war.
The senior official described a safety plan that would move 50 US special operation forces away from the area that Turkey was looking to invade.
"They will move to more secure areas over the next several days," he said.
The official said Mr. Trump was not giving approval to Turkey's incursion into Syria.
He said there would be no US support or involvement in the operation and that Turkey was "intent on resettling refugees" in the area it sought to control, as well as dealing with ISIS captives.
These are two goals that appeal to Mr. Trump and his administration.
The Pentagon on Monday also said that the US government told Turkey it did not endorse an operation in northern Syria.
Assistant to the Secretary of Defence for public affairs, Jonathan Hoffman, said: "In conversations between the department and the Turkish military, we have consistently stressed that co-ordination and co-operation were the best path towards security in the area."
But at the White House, Mr. Trump was sending different signals.
After his call with Turkish President Recep Tayyip Erdogan on Sunday, he decided that: "The United States Armed Forces will not support or be involved in the operation, and United States forces, having defeated the ISIS territorial 'caliphate', will no longer be in the immediate area."
On Monday morning, a small contingent of US troops left two observation posts in Tal Abyad and Ein Eissa but the
broader US military plans were unclear.
Mr. Trump took to Twitter on Monday to again pledge full withdrawal from Syria.
"It is time for us to get out of these ridiculous endless wars," he tweeted.
Source: The National