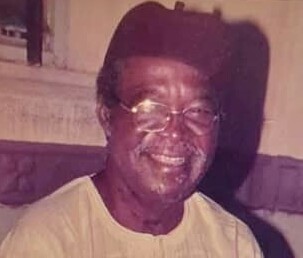 I have had the rare privilege and honour of learning from, mentored by and working with Bisi Lawrence, popularly known as BIZ LAW in the past 30years. There are many things that need to be said about BIZ LAW. I hope that some of my thoughts and reflections about BIZ LAW, will echo in the minds of other friends and associates and I apologize for any important thing that I might leave out unintentionally.
For me, and all those who knew him, BIZ LAW was an inspiration, an enigma, loyal and reliable mentor we fondly referred to as "Egbon" a Yoruba word for a revered elder.
Even though we were of different ages, my respect and fascination for BIZ LAW grew intensely anytime I reflected on the bond and camaraderie shared between him and my inimitable and illustrious senior professional colleagues, like Fabio Lanipekun, Dele Adetiba, and the Late Yinka craig.
Two of my respected friends in the Sports confraternity encapsulated my fond memories of BIZ LAW. Boxing officionado, Chuka Momah, was precise and forthright in his tribute: "BIZ LAW was a maverick. A man of many parts and dimensions. A giant among men. A man for all seasons. His vast array of knowledge seemed infinite."
The Former Chairman, Vanguard Editorial Board, Ikeddy Isiguzo's sentiments fully encapsulates the man: "BIZ LAW's wordsmithery was inimitable. His columns milked moments without being momentary. We have lost one of the best raconteurs."
There was hardly any dull moment with BIZ LAW.
We worked together in one or two international events hosted by Nigeria, the Under 20 FIFA World Youth Soccer Competition and the year 2000 African cup of Nations co-hosted by Nigeria and Ghana. BIZ LAW's administrative and organisational skills were awesome.
He was a man of matchless courage, integrity and honour. With BIZ LAW, there was no cutting corners. He had respect for details and would settle for nothing less than excellence.
I recall an incident at one of our planning meetings as part of the preparation for the Nations Cup. BIZ LAW had entered the venue and found some familiar but "strange" faces of relations, who ostensibly must have come to lobby for contracts. He openly castigated them and walked them out of the venue. That was the man; Bisi Lawrence, uncompromising in principles. I wonder how many Nigerians would adopt the same method, with the trappings of power at their fingertips.
BIZ LAW's contribution to Sports remains legendary, with indelible footprints on the sands of time.
As Vice Chairman of the Nigeria Football Association, he supervised the hiring of former Super Eagles coach, Clemens Westerhof, who turned 80 few days ago.
Westerhof became the most successful coach for Nigeria, winning the African Cup of Nations in Tunisia and qualifying Nigeria for the FIFA World Cup, USA '94, for the first time.
READ ALSO: Presidency Approves Verification Of Niger Delta Amnesty Beneficiaries
You could count on BIZ LAW for his repertoire of knowledge of football, same way he would unload heaps of information about the ancestry of every prominent household particularly on Lagos Island where he grew up. He knew who had Portuguese, Sierra Leonean or Brazilian origins.
BIZ LAW's love for Lagos was not negotiable. In his documentary series, "My Lagos Story", to mark his 50th birthday, he gloriously recounted that Washington was nowhere near Lagos, as no place in America had anything to offer that Lagos didn't have. Lagoshas something better.
As a glowing testimony of avowed Love for Lagos and Nigeria, BIZ LAW turned down an offer of a permanent place in Washington, along with Citizenship, during his stint with the Voice of America.
BIZ LAW was typical "Omo Eko", an acronym for a true Lagosian, the son of the soil.He was a man with passion for life and for people.
He had great intellect and knowledge of diverse issues which reflected in his various writings on contemporary issues in his weekly column.
BIZ LAW, was always ready to walk out of a job, whenever he felt he had nothing more to offer. This possibly accounted for his departure after an impactful tenure as General Manager of Lagos State Broadcasting Corporation.
BIZ LAW was known for mentoring others in the profession he loved. He sought to develop the people who worked with him because he knew they would be better leaders as a result of what they learned. This was indeed the admonition of Ralph Emerson, "Do not go where the path may lead, go instead where there is no path and leave a trail."
At 87, BIZ LAW lived an accomplished Life. He was a trail blazer, a great leader. We can all learn a lot about leadership and humanity by following BIZ LAW's example.
In the words of Irving Berlin, one of the greatest song writers in American history, "The song has ended, but the melody lingers."
* Mr. Akiotu, FNGE, who is the Group Managing Director of DAAR Communication Plc, presented this tribute at "An Afternoon of Tributes – Honouring the Dead, Inspiring the Living," on Friday, May 21, 2021, in Lagos.