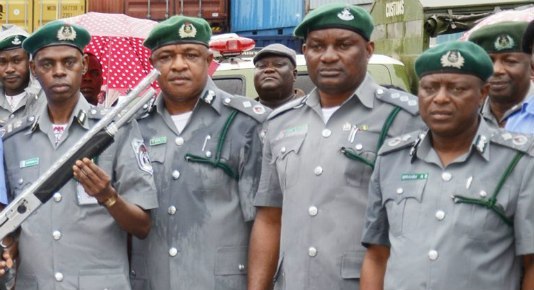 Some farm produce traders and farmers under the umbrella of Fruits and Vegetable Growers and Marketers Association of Nigeria, on Monday, protested the alleged seizure and auction of their goods by the Nigeria Customs Service.
The protesters alleged that men of the Nigeria Customs Service, Ogun State Command, had on Sunday, seized 2,000 baskets of tomatoes and pepper planted and harvested in Ijoun, in the Yewa-North Local Government Area of the state and auctioned them.
The protesters, who marched to the secretariat of the Ogun State Council of the Nigeria Union of Journalists , Oke-Ilewo, Abeokuta, on Monday pleaded for governments' intervention.
They were armed with placards displaying inscriptions such as, 'Customs wants to kill us', 'We are farmers and not smugglers,' and 'We didn't vote to be tortured.'
The state Chairman of the association, Timothy Eweoba, speaking on behalf of his members said, "They are now auctioning it (the seized produce) at their head office. They said it was a Federal Government's directive that the Customs should impound tomatoes and peppers planted in Nigeria.
"Our goods are not imported at all. They were planted here in Nigeria. Our produce were impounded in Ijoun.
"The goods were impounded yesterday (Sunday) and they are auctioning them now. We have been to the customs office where it was confirmed to us that our produce were being auctioned at N200 per basket."