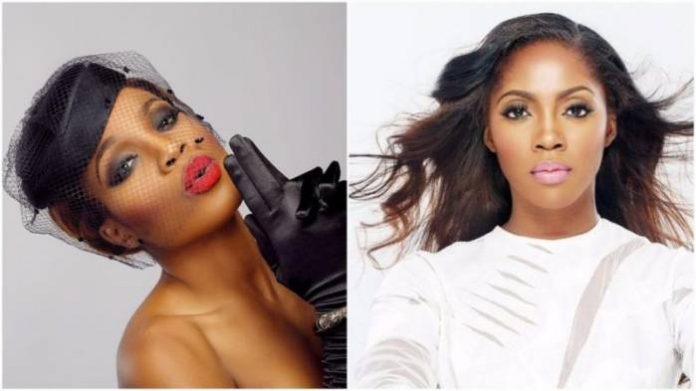 Nigerian female music stars, Tiwa Savage and Seyi Shay almost came to blows at a salon on Tuesday, June 8, 2021 over two years old beef that apparently was not settled.
Eyewitnesses said Seyi Shay went over to greet Tiwa Savage who rejected her greetings and decided to call her out on the beef.
Tunde Ednut shared a part of the video on his Instagram page.
The beef started when Kenyan singer, Victoria Kimani and Seyi Shay made a diss about Tiwa during Kizz Daniel's viral #FvckYouChallenge in January 2019.
Tiwa took part in the challenge in March by singing about a cheating ex whom she helped with her money and who owes a popular nightclub in Lagos.
Kimani took part in the challenge the following month with a song dissing Tiwa Savage and rapper, Ycee.
She accused Tiwa of sleeping around and blocking other female artistes in the industry.
Seyi Shay also jumped in and took shots at Tiwa also accusing her of being a whore and blocking female artistes like Simi, Teni, Asa and others in the music industry.
It seems Tiwa Savage did not let go of these grievances and confronted Seyi Shay about it at the salon.
Savage went ahead to swear on her child that she has never tried to stop any female artistes' show.
Seyi Shay tried to defend herself by saying it's not what she thinks but Tiwa was having none of that.
READ ALSO: Actress Jemima Osunde Begins Youth Service
"Don't try and squash shit by saying hi, try and squash shit by calling me on the phone to discuss it… No ma nigga, you did a whole song. You and that bitch did a whole song; you and that bitch did a whole song. You went on interviews, you said shit, I didn't say anything," Tiwa was heard saying.
Seyi Shay responded by threatening to expose her.
"I went on interviews and said shit? Tiwa, let me not open your nyash here, please."
Tiwa retorted by telling her to do it, calling her a whore and saying her secrets are the dirtiest in the industry.
"Open itttt! Your nyash is the dirtiest in this industry, you fucking whore."