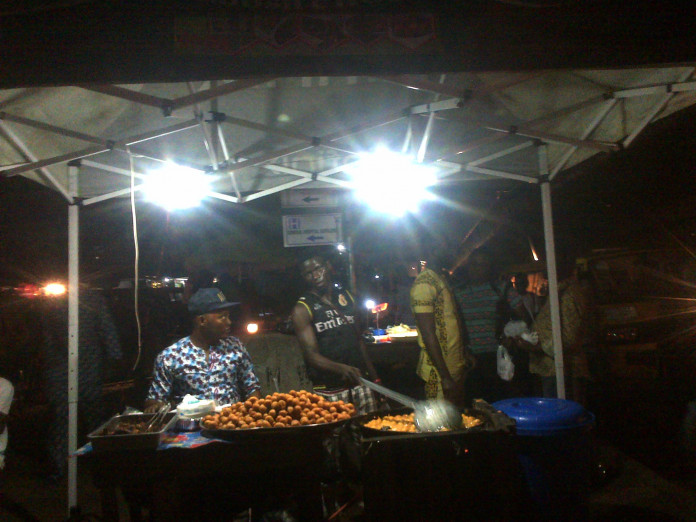 Night life under a typical Lagos bridge is usually bubbling with commercial activities. However, Ojuelegba bridge, stands out in terms of human traffic and longevity. While business under most bridges in Lagos become dull once the sun sets that of Ojuelegba springs to life with commercial activities.
Located in Surulere Local Government Area of Lagos State, Ojuelegba is one of the busiest places in the mainland. It is also known for its crowded setting as reflected in one of Fela's 1975 album, "Confusion." Wizkid has also paid glowing tribute to the ever busy commercial capital of the Mega City in one of his songs titled "Ojuelegba."
Of all the commercial activities, fast food business thrives most under Ojuelegba bridge. As from 6 o'clock in the evening, Nigerians from different ethnicities converge on Ojuelegba and all sorts of activities begin to happen under the bridge on a daily basis.
Food vendors hold sway at night with aromas of different delicacies renting the air. All sorts of activities take place simultaneously. From Akara to noodles, the whole place is bustling with varieties of fast foods.
During investigations, The Next Edition was told that it was the high costs of renting shops in town that has pushed many people to start small businesses under the large expanse of the bridge. "Renting a shop to do business in Lagos is very expensive," Lateef who sells bread under the bridge said, adding "Some of them cost as high as N120, 000 a year. Apart from the rent for the shop, we would still have other bills to pay. At the end of the month or year, what we will have to show for the entire struggle is nothing to write home about?" This, therefore, explains the transaction of commercial activities under the bridge
Those who are involved in food business have taken into consideration the financial conditions and the large number of some of the people who are involved in commercial activities around the area.
A lady in her early 20's who goes by the name Mariam runs a chicken and potatoes spot under the bridge. Unlike the fast food joints in the mainstream eateries, which could be found mainly in highbrow areas, Mariam's chicken and chips goes for N500 per plate.
"We take the ordinary people into consideration here. If we sell it how they normally do in some of these big joints, who will buy from us?
"If we are selling on the Island, for instance, we may sell higher but this place is for the common people so we need to make it affordable," Mariam explained to The Next Edition.
The place, which has the highest number of human traffic is "SAMJOSH" small chops just by the side of the bridge. In what seemed like free meal, hundreds of people were falling over themselves to have a bite at the spot.
Our correspondent had to take a closer look to know why that place was the number one attraction. This spot is being run by two friends who designated different positions to themselves. Abiodun Mercy is the Managing Director, while Emmanuel Olalekan is the Public Relations Officer. That's how organised they are.
Speaking with The Next Edition, Olalekan said, "We started this business here a month ago. We actually started at Yaba but didn't have this level of patronage. This place is highly populated and we are benefitting from it. We have our head office at Ebute-Metta but we decided to get to the streets to showcase what we have."
The two friends don't fry the small chops from their head office; it is done right in front of the customers. "The reason is that we want our customers to get it fresh out of the frying pan," he told The Next Edition.
Read also: SPECIAL REPORT: Ilaje: An Untold Story of Crushing Poverty Within Lagos' Dazzling Opulence
When asked what stands them out from the rest because it was obvious that they weren't the only ones into that business in the area. He said "the way we make it is the difference. It is about style. As you can see, our surrounding is neat. We take hygiene into consideration. I work with Lagos Health Service so I know much about the importance of hygiene. I go to work in the morning and come here to assist my friend as soon as I am done. We also make sure it is affordable. If it isn't affordable you won't see many people here. One puff puff goes for N10, only, while we sell gizzard for N100 and N150 depending on the size the size the customer prefers.
"We make at least N10, 000 every night. We use part of it to pay our staff. We pay them daily," according to Olalekan.
For youths who are jobless and depending on government to create job opportunities, he advised them to begin to look inward. "Nigerian youths should try to think out of the box. There are many job< opportunities on the streets, especially in Lagos if you consider the population."
A lady who identified herself as Kate said she hardly goes home without stopping by at one of the fast food spots to order for a take-away."I work here (Ojuelegba) and live at Ikeja. I close from work by 6p.m everyday, which is the peak hour of this place. I make sure I buy something to take home, especially small chops and gizzard from SAMJOSH because it is very cheap," She said.
Beyond its vast array of food outlets, there are other activities that are responsible for human traffic in that area. Young men and women in large numbers could be seen buying clothes under the bridge. Clothing items like shirts, skirts, trousers, including fairly under-wear were on display for passers-by to take a quick peep.
However, the fast food vendors and others close around 12 midnight, giving way to hoodlums who have made money during the day from taxing commercial bus drivers. The Next Edition learnt that some of these tax collectors (Agberos) retire to their haven at night in order to have fun after a stressful day. They make merriment by smoking weed and drinking alcohol till they pass out.