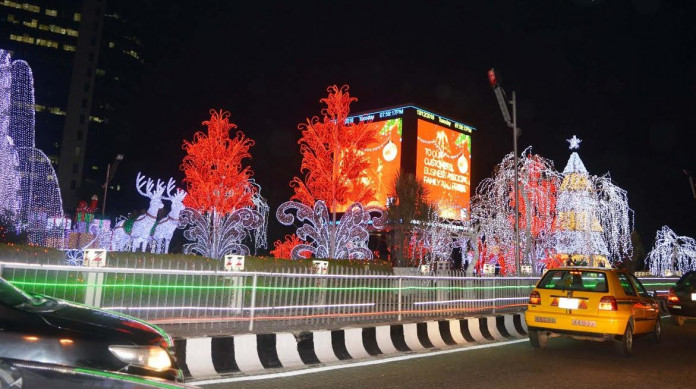 Christmas is upon us and some people may not be feeling the Christmas spirit yet. This may be due to many factors for each person but that notwithstanding, there's a few things you can do to put you in the mood of Christmas. Whether your pocket aligns or not, it's still a season of celebration.
Turn on the holiday tunes.
You can't deny the first Christmas song you heard got you feeling 'Christmasy'. Songs like 'Deck the halls', 'Jingle Bells' remind you instantly of the season.
Nothing gets you in the holiday spirit faster than music. Be intentional about it and play some of the Christmas classics in your house, car, etc. This will invoke Christmas feelings in you faster than anything else would.
Throw a holiday party
This doesn't have to be elaborate. Just the act of meet and greet during this period can set your in good stead. Remember to play those Christmas tunes in the background to further cement the spirit of the season. If you're a single guy or girl and/or far from home, inviting friends over will go a long way to make you feel amongst a family unit. You can have everyone bring over drinks or food to be shared with others.
Watch a Christmas movie.
Christmas movies never get old! Sit around the TV and watch some with family members. This will help you further along in feeling like it is Christmas. It doesn't matter if you've watched them before, they are still very entertaining to watch during the season.
Read some Christmas stories
For the little ones, you can give them books with Christmas stories. Reading these to them will also help them associate these stories and lessons to the season. It will also prepare them ahead of the grand finale – Christmas Day.
Walk or drive around to admire Christmas lights.
So many organizations and companies have put up their Christmas light decorations. If you can, drive out as a family or friend unit at night and look at all the beautiful lights. This will definitely get you feeling like the season is here.
Nothing quite puts the Christmas magic back in your heart like Christmas lights. Seeing the Christmas lights that let you know it's a special time of year.
Put up a tree.
If you can afford it, put up a Christmas tree. There are many options available even in traffic. Get one and string up a few lights. This will set the mood in your house. It doesn't matter if it's a family house or a rented one room apartment, you can invite the Christmas spirit in with a tree.
READ ALSO: Christmas: The rush, The frenzy
Attend Christmas productions and services
So many churches put on Xmas productions / drama in the days leading up to the 25th. Attend these productions to get into the feel. Going to the cinema to watch Christmas movies bound to come out as well can help along.
Reminisce on Christmas past
Talking about past Christmases is also another way to commemorate the season. As Adults, reminisce on your childhood Christmas. Share funny stories. This is a great way to enjoy the season and get you in the mood for the new one.
Whatever you do, remember to celebrate the gift of our Lord Jesus. Also giving is the essence of the season, so give as much as you can. Happy Holidays!