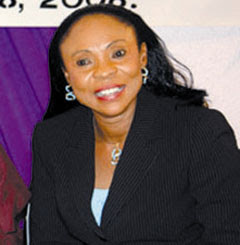 Benue State Governor, Samuel Ortom, has just had a great escape from a bunch of scalywags who meant to kill him like a common criminal.
If the hate-dripping statement from the Fulani Nationality Movement, FUNAM, which claimed responsibility for the attack on Ortom's life is anything to go by, to the members, the Governor is a common criminal. They hate him,  and they hate his guts with a passion for, according to them, daring to mess around with the lives of their cows. Because of cows, Governor Ortom is a murderer. Which must be why they chose to make an attempt on his life,  at a most  undignifying venue –  a farm, which he has vehemently refused that their cows ravage.
This will be Governor Ortom's third escape from, perhaps, same assassins. But this has to be the most dramatic. And the most brazen. Just picture the Governor running away from rampaging assassins. Thank God he dressed appropriately that day. Our big men have a habit of dressing inappropriately to occasions. They wear babariga to construction sites, to visit the wounded in hospitals, to IDP camps, to inspect roads.
The race for dear life is sweet. Ortom said he ran the whole of 1.5km to save his life. He did not tell us how long it took him to cover that distance. But a guess is in order. His speed  would have made Usain Bolt green with envy. At that point in time, he probably forgot his status.
I don't blame him. The men after him were serious. They meant business. They were well prepared. Otherwise, how could  they have dared a Governor. With the retinue of security men usually attached to Governors, especially Governors of violence-prone states, like Benue, it is surprising they dared Ortom. It must have been a suicidal squad.
Yet, they were lucky. They got away easily, unbelievably easily.
I don't know how the Governor, or those with him were able to count the number of the attackers. At that point in time, it must have been: "To Your Tents O! Israel." But apparently, somebody must have been in a state of mind to do a head count of the attackers.  They were 15 in number, the Governor disclosed at a Press Conference he addressed in a pungent, punchy, defiant voice which, at once,  drew sympathy and outrage.
Did the Governor go to his farm with less number of security aides than usual? Did they run with him? Or did he run alone? Which direction did he run to? Further into the farm/bush or towards the main road?
Governor Ortom, while narrating his escape, thanked his Security aides for repelling the attack. So, was there an exchange of gunfire? If there was, were there casualties? Was anybody injured? It is surprising that, on both sides, everybody shot off- target. None of the attackers was killed. None was injured. All of them got away. It doesn't help much.
Whatever, we must thank God for little mercies. The Governor seems like the proverbial cat with nine lives. This is the third time he would be attacked, according to him. He is lucky. And so is Nigeria.
Given the anger and uproar which have greeted Ortom's story of his great escape, a war could have broken out by now. From history, Benue people are a hard nut to crack. They are tough. And they can fight. From their reaction, they are already beating drums of war.
The powerful Middle Belt Forum, says the attack on Ortom is a declaration of war (on the Zone). Former Senate President, David Mark, sounded same. He said people would be pushed to resort to self-defence. Benue youths spoke no differently. They will take up arms in self defence. More reactions, came like claps of thunder.
From Rivers State, tough-talking Governor Nyesom Wike, warned that if anything happens to Ortom, it would trigger the end of one Nigeria. PDP Governor's Forum  did not sound less furious. From President Muhammadu Buhari, Nigeria  Governors' Forum, Progressive Governors Forum, to Northern Governors' they all have spoken, strongly. The Christian Association of Nigeria, CAN, concluded, already, there is a killer squad within the Miyetti Allah, and called for immediate action against the squad. But, as they say, "all na talk."
Only the Inspector General of Police reacted swiftly. He  ordered the strengthening of security around Ortom. He has also assembled a special squad to investigate, thoroughly, the attack on Ortom.
For the records, Ortom is not the first Benue State Governor whose life an attempt has been made on. George Akume, a former two time Governor of the State,  now Minister for Special Duties, ( Is he still there, by the way?) was once a target while in office as Governor. Akume was on his way to Abuja when his convoy was ambushed. His official car was the target. In Akume's company, sitted by him, was Augustine Agom, a former Managing Director of the defunct Nigeria Airways. The bullet missed Akume, hit Agom, and killed him instantly. Till date, each time I remember Agom's bloodied dead body, bent sideways a little, still sitting at the back seat of Akume's official car, I shudder. Agom, urbane, was a senior friend of mine, and I never quite forgave the newspaper which made the blood-curdling photograph a front page story.
I now don't remember if the criminals who ambushed Akume were caught or not, but the story was that on hearing the blaring siren, the hoodlums jumped out from the bush and opened fire.
Nor is Ortom the only Governor under the Buhari Government who has been attacked.
READ ALSO: 22 Communities Declare End To Female Genital Mutilation In Imo
A few months ago, it was the Governor of Borno State, Babagana Zulum. His convoy came under a heavy ambush in the hands of Boko Haram insurgents. The video of the attack which went viral was scary. Zulum was saved by security aides who pushed him into a Police Armoured vehicle. The Governor absolved Boko Haram insurgents, and pointed accusing fingers at soldiers. Zulum has a penchant for criticising them. The Military has since warned him. But I digressed.
Ortom also says he knows his attackers. He wasted no time in identifying them. He said they came from the Miyetti Allah. The plan to kill him was hatched in Yola, Adamawa State, after a meeting of the Miyetti Allah, and an order given to the effect, he disclosed.He has, as usual, asked for the arrest and prosecution of the Leadership of Miyetti Allah.
Given Ortom's lead, the job of the IGP Ortom seems easy. The first is to sit down with Ortom and debrief him. For instance, the details of the venue of the meeting in Yola where the decision to kill him was given; those present, and in confidence, the person who leaked the information to Ortom. Some people can be mischievous. Their mischief can cause a civil war.
Yet, Ortom's case seems complicated. The way he talks, he is very passionate about his people. Their safety and security are uppermost in his thoughts.
For years, he has been fighting against the open grazing of cattle. He says the herders have destroyed farmlands. He says they are killing his people and raping their mothers, wives and daughters. He says they have become an army of occupation; that they have taken over their land, and reduced the owners of the land to refugees. Ortom has been in the forefront of the fight against all these. Some people say he is that vocal for his political survival.
Whatever, the Miyetti Allah see him as a threat. Politically, he has paid for his stand on the Miyetti Allah issue.
It is one of the reasons he decamped from the APC to the PDP, less than four years after he defected from the  PDP to the APC. He felt the APC Federal Government was incapable of protecting his people. The FG was neither comfortable with his utterances nor position on the rampaging herdsmen. He was neither diplomatic, nor gubernatorial, they felt. The ruling party at the centre felt he had become divisive. The punishment was the plan to deny him a return ticket. He sensed that, and beat the party to it.
Ortom defected to the PDP, and won a second ticket. He banned open grazing, and endorsed ranching. Ortom says his strong opposition to open grazing and the occupation of his people's land are the reasons a death sentence was passed on him.
In the instant case, not everybody believes Ortom was actually attacked. Could it have been stage-managed? Why would he do that? What point would he want to make?
A group is asking Ortom to prove he was attacked. It is asking for evidence. It cites the case of the attack on Zulum, and says everybody saw the evidence. Where is the evidence?, they ask. In this age of technology, they are asking for a video evidence, as was the case in Zulum's case. They want to watch the video of an Ortom running in an undignified manner, just as they watched a scared-stiff Zulum being pushed into an armoured car. Funny people.
Miyetti Allah denies any involvement in the attack on Ortom. Its Chairman asked Ortom to look inwards. He said the attack came from Ortom's people, and insisted the Miyetti Allah would never be involved as none of their members is presently in Benue. The Governor has sent all of them packing, the group claims.
The question is: Does their absence in Benue mean  Miyetti Allah cannot plan any such mischief if it so decides? Of course, it can. Criminals stay in jail, plan worse crimes, and carry them out.
However, the Fulani Nationality Movement, FUNAM, has exonerated Miyetti Allah by claiming responsibility for the attack on Ortom. FUNAM in a statement claim the attack is a consequence of the Governor's many negative actions against the Fulani. It also swears Ortom would be eventually hunted down and killed.
Does this group exist? I doubted its existence until Femi Fani- Kayode confirmed it does. In a statement, he disclosed that FUNAM is closely associated with ISWAP. Has the IGP started a manhunt for the person who signed the FUNAM statement?
It is a shame Nigeria has degenerated to this unbelievable level.The alleged brazen attack on Governor Ortom has raised the ante of the worst in us. To think that a Governor could be so easily targeted!
What if he had been killed?
How would it have been explained away? Business as usual?  Huge joke!
This attack, also, came at a wrong time, a time the United States of America warned its citizens off Nigeria. Nigeria is on its worst, and on in its knees.
The Ortom incident caused this uproar because it happened to a Governor. Otherwise, this is our everyday life. The number of Nigerians killed, cheaply, everyday is horrifying. It is unprecedented in the history  of the country.
Any sense of security felt  when the new Sheriff arrived  in town has since evaporated. And the questions that reverberate are: Where is the Sheriff? And whatever happened to him and his swagger?
Finally, an unsolicited advice for Governor Ortom. Keep off your farms. You have told everybody you go to there on Saturdays. Not good enough. Be security conscious. Nobody will give you a price for surviving such attacks three times. Don't make yourself vulnerable. You may also look inwards to check. Perhaps, you have saboteurs within. It beats me how the attackers knew the exact time you were in the farm – unless they were tipped off, and thus, lay in waiting. Check if one of your own is selling you out. As is now said, I wish you the new normal. Stay safe.
*Obi is the Editor-in-Chief/CEO of The Source Magazine