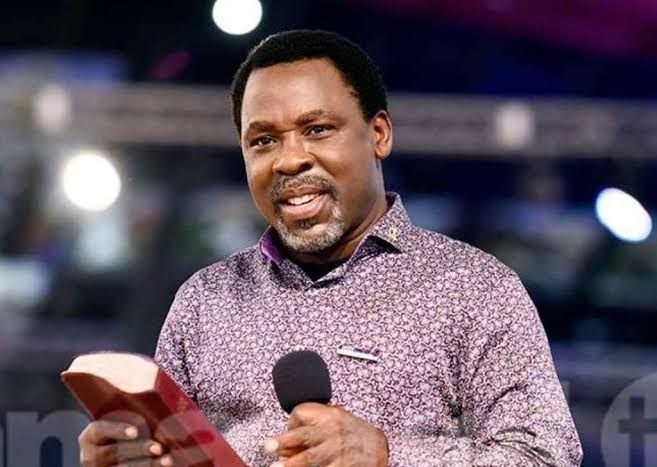 Mr. Tony Adibe, former Editor of Readus newspaper owned by the Synagogue Church of All Nations (SCOAN), has said that the late Prophet Temitope Balogun Joshua touched lives more than any other African cleric.
The church and Joshua's family announced the death of Joshua, popularly called "Prophet TB Joshua'' , the global gospel televangelist on Sunday.
Adibe, who edited the in-house newspaper of the church for some years, told NAN in Enugu that he was shocked and saddened by the demise of the popular prophet.
"Apart from being an editor of an internal publication of SCOAN for some years, I followed and interacted with the prophet for over 12 years as a member of the church before relocating to the South-East.
"One notable thing about the prophet was his very large heart of philanthropy and giving without boundaries.
As far as you are human that needed help, Prophet TB Joshua will give it to you.
"It is a sad one and a pity that millions in the country and beyond, Christians, Muslims and others, several rural communities, villages and aged people, will be impacted by the demise of the great giver.
"When you talk about loss, his death is a real irreplaceable loss to very many people.
READ ALSO: Northern Women Association Says Nigeria Can't Afford Another Civil War
"Most of these people have not met him one-on-one before but had been touched by his humanitarian gesture and his gospel of reconciliation and love.
"A great iroko has fallen and millions of birds that benefit from it will be severely affected,'' Adibe, who is currently the Bureau Chief of Daily Trust newspapers in the South-East, lamented.
Adibe noted that the teachings and counselling of the late prophet made him to look at life from the "positive side'' and "always give gratitude to God for everything."
"As a young person then through his teaching and my personal interactions with him I learnt to show love to others and follow them with some level of patience.
"It is a great loss to me and my family as well. May his kind soul rest in peace in the bosom of our great Lord, Jesus,'' he said.  (NAN)