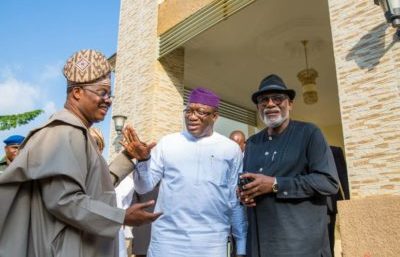 The Supreme Court, on Friday, upheld the victory of Governor Kayode Fayemi of Ekiti State.
In a unanimous judgment by a five- member panel of Justices, the apex court dismissed an appeal filed by the Peoples Democratic Party, PDP, and its governorship candidate, Prof. Kolapo Olusola against Fayemi's victory.
In the lead judgement that was delivered by Justice Iyang Okoro, the Supreme Court, said it had no reason to dislodge concurrent decisions of both the Ekiti State Governorship Election Petition Tribunal and the Court of Appeal in Abuja, which ruled that the case of the appellants lacked merit.
Okoro ruled that the appeal lacked merit. "I am satisfied to hold that there is no merit in this appeal. The two courts below are concurrent in their findings. This court is always hesitant to interfere with concurrent decisions of the lower courts."
READ ALSO: Theresa May Resigns as British PM, Sheds Tears
According to him, the apex court would only intervene where an appellant was able to establish clear errors that occasioned miscarriage of Justice.
"This appeal has no merit and it is accordingly dismissed. I affirm judgment of the lower court," he said.
The apex court panel was headed by the Acting Chief Justice of Nigeria, CJN, Justice Tanko Muhammad.
Recall that the appellate court had also in a judgment by a three-man panel of Justices, affirmed the verdict of the Ekiti State Governorship Election Petition Tribunal which declared Fayemi as the winner of the July 14, 2018, gubernatorial election in the state.