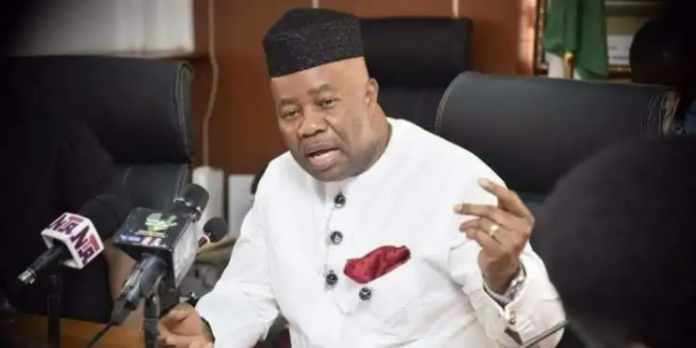 Senator Godswill Akpabio and the preferred candidate for the office of the President of the10th Senate has stated that contrary to sponsored media report alleging that his colleagues have withdrawn their support for him, members of the Stability Group and new Senators-elect are still solidly behind his ambiton.
He also advised those peddling the unfounded romour to stop the propaganda because no Senator has withdrawn his support for him.
A statement by his Chief Press Secretary, Jackson Udom, described the sponsored news item as "unfounded, false and a calculated attempt to smear the seamless relationship between the former Minority Leader and his distingushed colleagues who are very much in support of his aspiration. They should stop the propaganda against Senator Akpabio because no Senator has withdrawn his support from him."
According to the statement, "as Minister of Niger Delta Affairs Senator Akpabio had described the parastatal under his ministry as a cesspool of corruption and NOT the National Assembly.
READ ALSO: Obi Faults Sudden Removal Of Fuel Subsidy Without Palliative Measures
"He made this remarks whilst justifying the Forensic Audit of the Commission which was ordered by former President Muhammadu Buhari. Infact, he decried a situation where few individuals would corner huge contracts in the agency under the guise of giving them to the lawmakers without the knowledge of the lawmakers.
"There was never a time whether in public or in his closets that he described the National Assembly, which he is a very proud member, as a cesspool of corruption. Those peddling and sponsoring such unfounded allegations are doing so for political gains. Any organized campaign of calumny against Akpabio will surely fail!!!" the statement added.