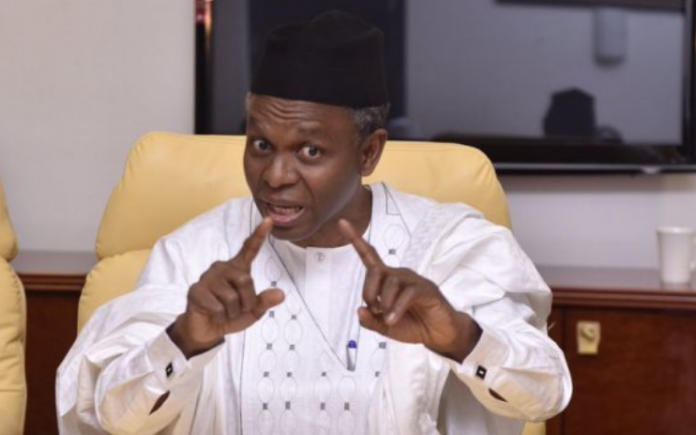 In one of the worst criticisms of his public utterances, the Kaduna State Governor, Nasir El-Rufai, has been advised to stop pointing "leprous" fingers at others.
A former Secretary of the Christian Association of Nigeria (CAN) in Kaduna State, John Hayab, gave the advice in an open letter to the governor on Sunday.
The clergyman, who was reacting to Mr. El-Rufai's attack on the Peoples Democratic Party (PDP) Vice Presidential candidate, Peter Obi, said the governor is notorious for bigotry.
Mr. Hayab said he was compelled to speak as a citizen and a stakeholder who believes in the unity and diversity of Nigeria.
The priest not only accused the governor of taking pleasure in making bad and inciting comments about others but said his leadership style has destroyed Kaduna State.
"When some Christian leaders years back complained about how he made a mockery of Jesus on his Twitter page, it seemed they deliberately accused him of recklessness for political reasons, but little did we realise such inflammatory comments were El-Rufai's trademark," the clergyman said.
"For instance, since El-Rufai became the governor of Kaduna State, many of his utterances have been either to insult or denigrate individuals or group of people.
"In fact, his recent tweet accusing Mr. Peter Obi of being 'a tribal bigot' clearly shows that the governor needs to go and look at himself in the mirror."
Although he is not from South East Nigeria, he said a visit to Awka and his meeting with people in Onitsha showed Mr. Obi promoted peaceful co-existence unlike Mr. El-Rufai, who has greatly divided Kaduna people.
"My dear Governor El-Rufai, you cannot go to the social media every now and then making divisive statements about the people of our dear state, only to come back to accuse other Nigerians of being bigots.
"For you to have the moral right to accuse others as bigots you need to reexamine yourself in the mirror to ascertain if you are not worst off. It is public knowledge how you have threatened Shiites, SOKAPU, and even the Nigerian Army, aside from those who hold different political views.
"Does El-Rufai assumes that the silence of many indigenes of Kaduna State and other well-meaning Nigerians on his actions is a sign of weakness or are people ignorant of the high level of polarisation that his leadership has brought to the state?
"My investigation shows that when Mr. Peter Obi was Governor of Anambra State, he worked peaceably with three commissioners of police from the North including Alhaji Amusa Bello, Gwary Usman and CP Leha," the clergyman said.
However, Mr. Hayab said the Kaduna governor does not work with heads of security organisations that are not from the core north.
READ ALSO: JUST IN: Court revokes Orji Kalu's bail
He recounted how Mr. El-Rufai has caused the transfer of police commissioners and heads of the State Security Service (SSS) who are not from Northern Nigeria.
Continuing, he wrote, "My dear Governor, please stop your divisive and distractive statements and actions and look inward to remove the speck from your eyes before attempting to help remove the splinter in others.
"El-Rufai had not lived in Anambra but is accusing someone from Anambra of stewardship. Can El-Rufai be truthful to himself and to us in Kaduna State by admitting that he is not Nigeria's bigot-in-chief?
"Peter Obi's people say that he is one of those exemplary governors who left his state financially better off than he met it. Besides, he left Anambra peaceful and united.
"Without the fear of contradiction, a majority of Kaduna State people are of the view that Governor El-Rufai should focus more on his duties as a leader of the state and stop poke-nosing into affairs that have little or no link to the administration of our state.
"We demand that Governor El-Rufai should concentrate on making Kaduna State peaceful and prosperous by delivering fair, unbiased, and equitable leadership, rather than being at war with almost everyone who holds a differing view from his.
"My candid advice to the Governor is that he should stop pointing leprous fingers at others and, instead, take a hard look at the mirror as his utterances, poor political equations and decisions have heightened suspicion and distrust, a development that is condemnable and unfortunate," the clergyman said.