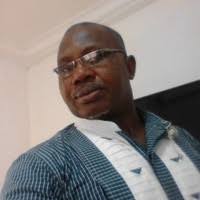 Dele Aiyenugba led Enyimba to their first FA Cup glory, he remains a hero in Aba sixteen years after he left for Israeli club Bnei Yehuda. The goalie was treated to a Guard of Honour recently when his team, Kwara United faced the People Elephants at home in a Premier League clash.
Aiyenugba received a standing ovation from the enthusiastic crowd and he inspected the Guard of Honour mounted by players of Enyimba and visiting Kwara United.
On November 12, 2005, the Aba Ngwa Boys lifted the trophy with a 6-5 penalties victory over Lobi Stars at the Liberation Stadium, Port Harcourt. It ended goalless in regulation time. Lobi went ahead during overtime, Enyimba equalised. During the shoot out, sudden death was applied and Captain Aiyenugba saved Sumaila Suleiman's kick.
The captain became first choice after Vincent Enyeama left for Bnei Yehuda at the end of 2004. The CAF Champions League two- time champions had also lost the services of Obinna Nwaneri, Ajibade Omolade and Ogbonnaya Okemmiri.
In the 2005 season, Aiyenugba went 13 league games without conceding a goal until the 1-1 draw with Tornadoes in Minna.
The shot stopper was an integral part of the historic 2003 CAF Champions League winners. He played in the 3-1 defeat of ASEC and appeared again, to replace Enyeama in Ismailia after the Egyptians put three goals behind the Eagles top choice.
Aiyenugba did not do any better. He also let it in three goals as Enyimba recorded Nigeria's worst CAF Champions League performance. It ended 6-1. They eventually made up in the finals and grabbed the trophy on the same pitch.
When the Elephants went in defence of the cup in 2004, Aiyenugba stood out as Penalty Killer. In the semi finals, Esperance took the lead in Aba through Minare Johar. Substitute Eric Fasindo brought the hosts back to life with a late equaliser.
In the Tunis second leg, Ali Zitouni shook Enyimba with a goal in the 43rd minute. Esperance had stars. Skipper Khaled Badra led the Carthage Eagles to African Nations Cup victory earlier in the year. There was also the Brazilian, Jose Luis Clayton.
David Tyavkase struck in the 66th to make it 1-1. A minute to time, Coach Okey Emordi withdrew Enyeama for Aiyenugba. He knew penalty kicks loomed.
Aiyenugba saved twice, just like the Ivorian, Jean Tizier who manned the post for Esperance. Enyimba qualified for the finals 6-5.
Another Tunisian team, Etoile Sportif Sahel came in the finals. Enyimba scored first in Sousse but went down 2-1. The hosts paraded a bunch of Nigerians, from goalkeeper Austin Ejide to Emeka Okpara and Ogochukwu Obiakor.
Backing them were seasoned captain Zoubeir Beya, ex- Besiktas, ex- Freiburg and Ivorian international, Kandia Traore.
The second leg was moved to Abuja by CAF. Obinna Nwaneri captained Enyimba in the absence of Uga Okpara who was barred by yellow cards. Onyekachi Okonkwo was also not eligible.
Enyimba earned a penalty which Enyeama converted. Muri Ogunbiyi made it two before Nwaneri's tackle on substitute Obiakor cost them dearly. It led to a goal. At 2-1, Enyeama was withdrawn, in came Aiyenugba.
In the ensuing penalty kicks, Aiyenugba saved Sabeur Ben Frej's attempt. And that decided the match, 5-4. Enyimba won a second CAF Champions League crown.
READ ALSO: Ijaw Leaders Lament Presence Of Armed Herdsmen
Enyeama was voted Most Valuable Player by Pepsi and was rewarded with 500, 000 naira. LG Electronics preferred Ogunbiyi.
Bringing in Aiyenugba for Enyeama was a very healthy strategy that caused the latter to improve on penalty kicks.
In the semi finals of the Tunisia 2004 African Nations Cup, the hosts beat Nigeria 5-4 penalties. Many Eagles' supporters faulted Christian Chukwu for not pulling out Enyeama for Gregory Etafia.
Full and extra time scores stood at 1-1. Osaze Odemwigie missed his penalty kick. Captain Badra took the last kick and scored.
Nigeria and Tunisia met again at the Egypt 2006 African Nations Cup. It took penalties to decide the semi finalists. Aiyenugba was reserve goalkeeper. Austin Eguavoen decided to keep Enyeama after proceedings were stalemated in Port Said.
The Eagles missed two of their first three kicks. It was Enyeama's day. He had saved a penalty in open play. Then he saved three during shoot out bringing his total to four.
To crown it all, when the game dragged into Sudden Death, Enyeama had to save Bouazizi's last kick for Tunisia and then scored the seventh kick. Nigeria won.
The story of Aiyenugba and Enyeama must be told. They were healthy rivals and friends as well. Enyeama joined Enyimba as third choice. Andrew Aikhuomogbe was lead goalie. Aiyenugba followed.
Gradually, Enyeama worked his way to the top. In early 2002, Ike Shorunmu and Austin Ejide were favourites. When Adegboye Onigbinde became manager, he moved Enyeama to Number Two.
At the Korea/ Japan 2002 World Cup, Onigbinde introduced Enyeama against England in Osaka. The outcome was a scoreless draw. Enyeama was first choice until 2015.
When Berti Vogts looked the way of Ejide in 2008, the Eagles performed poorly at the African Nations Cup in Ghana. Siasia went for Aiyenugba in 2014. Guinea messed him up and Nigeria failed to qualify for the next African Nations Cup.
Aiyenugba is a good friend. After Enyimba sent Esperance packing in 2004, he rushed to embrace Enyeama, the same man that was withdrawn for him.
In 2005, while Enyeama was waiting to finalise his transfer to Bnei Yehuda, he joined Iwuanyanwu National of Owerri. Three other former Enyimba players, Romanus Orjinta, Michael Ochei and Chibuzo Ozurumba played for the Naze Millionaires.
Enyimba hit their opponents 3-0. Aiyenugba who captained the Elephants rushed to hug Enyeama, his former team mate.
Going back to Aba with Kwara United was special. Aiyenugba spent six years with Enyimba between 2001 and 2007. He rose to the top as captain and won the African Super Cup twice, the CAF Champions League, two times, the Premier League four times and FA Cup once.
From Aba, the keeper joined Bnei Yehuda just as his friend Enyeama was leaving. He spent 13 seasons in Israel.
Aiyenugba began with Kwara Stars in Ilorin 25 years ago and is back to Ilorin. Enyimba fans know him as an Elephant so they blew his trumpet in Aba. However, Kwara United lost 3-0. The hero was Aiyenugba.