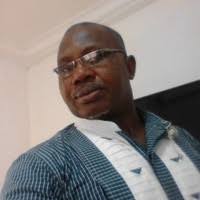 Life after tennis remains sports for Sadiq Abdullahi, the King of Nigerian courts between 1985 and 1988. With eyes on the Qatar 2022 World Cup, he feels sad that while other nations are moving up, his country continues to miss in action.
Abdullahi lives in the United States where he works as professor of Education at Florida International University, Miami but home means so much to him.
Abdullahi engaged me in in intercontinental chat recently and bared his mind.
"I am extremely pleased watching underdogs like Iran, Saudi Arabia and Morocco showing off their skills and proving to us that we perform with the best. It is sad that our Super Eagles are missing in action, a big lesson to our sports administrators," he said.
The Seoul '88 Olympian noted the presence of players born to Nigerians displaying at the Mundial, for other nations.
"You could see children born to Nigerians win at international competitions. Remember that after the London 2012 Olympics, then Sports minister Bolaji Abdullahi, promised to do something about it.
"You watched Manuel Akanji play for Switzerland with Noah Okafor. Bukayo Saka plays for England. In tennis, Tony Mmoh, Jr. had the opportunity to represent Saudi Arabia or Nigeria but chose USA. This is an area we need to explore. It will help our overall efforts to raise the standard of sports in the country," the former national champion added.
Seven players who could have represented Nigeria adorned the jerseys of other countries while the Eagles are scattered all over the nooks and crannies of the globe idling away, to the chagrin of compatriots.
Manuel Abiodun Akanji who stood strong in the Swiss defence showed the never die spirit with Noah Arinzechukwu Okafor. Samuel Ayomide Adekugbe and Ike Dominique Ugbo wore the Maple Leaf of Canada. Karim David Adeyemi and Jamal Musiala joined the German machine as Bukayo Ayoyinka Saka continued to score for England.
Abdullahi is not going to sit back in Miami and bewail the decay that has enveloped sports in his homeland. The Kaduna man has a vision.
"School sports is the foundation for success all over the world. The social and personal benefits are enormous. Elite athletes have emerged from schools. Academies are also part of schools sports," he reminded me.
Abdullahi is leading a crusade that involves Diasporans, veterans and politicians, to bring back our sports.
"We are leveraging on school sports for national development. We had a teleconference in November (2022) with focus on holistic development of the Nigerian youth through sports".
As Founder and Chief Executive Officer Sadiq Abdullahi Sports Enterprises ( SASE) a conglomerate that has hands in tennis, academics and grassroot mobilisation, he is working out a deal with Green Eagles legend , Segun Odegbami.
" Since 2008, Odegbami and I have been discussing ways to revive tennis and improve sports at the grassroot level. We have stayed committed to that vision.
"What you are seeing now is the manifestation of long planning, reflection and discussion. It is now time to unveil our plan. Hopefully, we will come to a mutually agreeable negotiation", he disclosed.
Abdullahi is running after politicians, trying to extract from them concrete promises that will bring back the glory days. He has scheduled a Presidential Candidates United for Sports and Unity Campaign for January 2023, in Abuja.
There are positive signals from the All Progressives Congress ( APC) flag bearer, Bola Tinubu. Expectations are high that other presidential candidates like Peter Obi of the Labour Party, Atiku Abubakar of the People's Democratic Party and Kola Abiola of the People's Redemption Camp will also show interest.
According to Abdullahi, "athletes are supporters of all the candidates. Sports and Education development are our focus."
READ ALSO: Messi Dethrones Maradona After Record 22nd World Cup Game For Argentina
He finished from St. Paul's ( Kufena) College, Zaria. The school did well in sports winning the Davis Cup for Northern Nigerian secondary schools in 1958.
That squad was captained by Chukwuma 'It's a Goal' Igweonu who won the Challenge Cup with Port Harcourt Red Devils, League with Enugu Rangers and made the first Nigerian team to the African Nations Cup in 1963.
Igweonu was the coach of the Christ the King College Onitsha team that won the World Secondary Schools Championships, Dublin 1977. Some of his boys,Arthur Ebunam, Nnamdi Nwokocha and Amechi Igweobi also played for the Green Eagles.
Another Old Boy of St. Paul's, Mathew Onyeama, captained Leventis United Ibadan to dominate the league, climbing successfully from Division Three to Two and then One, winning and capping it with the Challenge Cup between 1984 and 1986.
So when Abdullahi harps on school sports, we must listen to him. He was a school boy when he met tennis legend, Arthur Ashe at the Lagos Tennis Club in 1976.
Abdullahi later worked with Ashe in the United States as a coach after quiting as a player in 1989. That was just one year following Olympic debut at Seoul.
That experience also shaped Abdullahi's resolve to stay focused and teach others about commitment. He has no regrets losing to Javier Sanchez in the first round because, he was not as mentally prepared as his opponent.
Sanchez came from a tennis background. His siblings, Emilio and Arantxa Sanchez- Vicario also played good tennis.
Abdullahi was national champion three times consecutively, 1986, 1987 and 1988. He represented Nigeria at the Davis Cup and took part in the US Open.
Tennis boomed when we had Nduka Odizor, Tony Mmoh, Abdullahi, David Imonitie, Veronica Oyibokia, Nosa Imafidon, Yakubu Suleiman, Ann Abimiku and Rolake Olagbegi.
Odizor, nicknamed Duke, got to the quarter finals of Wimbledon in 1983 and by 1984 was ranked Number 52 globally.
Before them, there were Thompson Onibokun, Lawrence Awopegba, Yemisi Allen, Kehinde Ajayi and Elizabeth Ekong.
I asked him about the old brigade and the state of tennis.
"Nduka, Sadiq, Mmoh, Oyibokia, Rolake, Ann are in discussions to revive tennis. We will come together at the appropriate time. Tennis will return when everyone is involved. The younger generation is waiting," Abdullahi finalised.