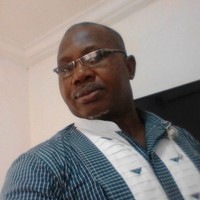 Joseph Yobo's third cap for Nigeria was against George Oppong Weah's Liberia in a crucial Korea/Japan 2002 qualifier. Eagles coach, Amodu Shuaibu, tactically found rookies to cage the legendary footballer who was more at home with Taribo West.
Yobo and Eric Ejiofor did a great job. They kept Weah in check and as frustration set in the Liberian financier earned a red card. Nigeria picked the maximum points with a 2-0 victory, thanks to Nwankwo Kanu and Victor Agali. The Lone Stars had not lost a match in one year and looked set for a World Cup debut having defeated the Eagles 2-1 in Monrovia.
Liberia arrived Port Harcourt fully prepared for victory. They had Europe based professionals like Christpher Wreh, Kelvin Sebwe, Oliver Makkor and Joe Nagbe. Sebwe was not new to Nigeria. He represented his country at the Bauchi" 90 ECOWAS Cup. Makkor had played in the Nigerian league. Against an Eagles squad that dropped points against Sierra Leone in Freetown, there was nothing to fear.
Weah and his team mates did not reckon with Yobo who was also in Europe trying to find his feet with Marseille, France. The Lone Star captain wanted to colour his profile with a Mundial appearance. For a man who was voted FIFA World Player of the Year in 1995, everything was done to take his country to the global stage.
Yobo entered the Liberation Stadium as a greenhorn, wearing the green and white of Nigeria. Weah could not move. And at that time, the Lone Stars were like the old Argentina of Maradona and his ten robots. Without their main man, they could not strike. When Ejiofor seemed to have lost steam very late in the match, Amodu threw in Emeka Ifejiagwa. Yobo remained solid, literally putting Weah in chains.
Weah lost his cool. He could not break loose. The superstar turned to push and shove. It was not a rugby game. The referee reminded him with a yellow card. In all that, Yobo became a new hero, guaranteeing himself a future in the national team. At the end of the match, Weah described him as a small boy who did not respect elders in the field of play.
Liberia ran into more trouble when they lost 2-1 to Black Stars of Ghana at the Samuel Kanyon Doe Stadium, Paynesville, Monrovia. That gave Nigeria a breather. The Eagles also battered Sudan 4-0 in Omdurman. Luck was on their side as FIFA ruled that instead of playing at day time when temperature would rise to 40 degrees centigrade, the match be played under floodlight.
The last match of Group B was between Nigeria and Ghana in Port Harcourt. The other African representatives had emerged. Cameroon, South Africa, Tunisia and new comers, Teranga Lions of Senegal, were sure of action at Korea/Japan 2002. The Liberians had played their last match and were leading the group with two points. If Nigeria defeated Ghana, that was end of the road for the Lone Star.
Weah and Liberia had their fears. They accused Nigeria of offering a petro dollar bribe of 25,000 US dollars to the Black Stars before the game. He volunteered to be in the Garden City to watch the match. Liberians believed there was so much money in Port Harcourt because of oil. They should know better because they also had a well funded soccer team, the LPRC [Liberia petroleum Refining Company] Oilers.
Nigeria enjoyed a good day. Victor Agali scored in the very first minute. By the 32nd minute Tijani Babangida had scored a brace to put scores at 3-0. Seven minutes later, coach Fred Osam Duodu pulled out keeper James Nanor for Osei Boateng. The newcomer did not last. He was sent off in the 41st for a foul on Agali.
At that time, the Black Stars had made the mandatory changes. Their captain, Emmanuel Kuffour, had to man the posts till the end of the duel. It was strange that Kuffour did not concede a goal at a time Ghana played ten men against eleven. It was funny that one of the Ghanaian players was Charles Taylor. Nigeria and Ghana really made Weah cry. The Eagles qualified .
Weah has come along way with Nigeria. Taribo West is his good friend. While the former played in France for Monaco and Paris St. Germain[PSG], the latter joined Auxerre. In Italy, they found homes in AC Milan and Inter Milan respectively. As decline set in, both players moved to England, teaming up with Chelsea and Derby County respectively.
The Liberian almost single handedly destroyed Iwuanyanwu Nationale in the second round of the 1988 CAF Champion's League. The Naze millionaires had beaten Tonnerre Kalara, Yaoundé 2-0 in the first leg. In the Cameroon second leg, Weah, scored two quick goals to cancel the Owerri advantage. The Nigerians powered back but lost 3-2, enough to move on.
That was Weah's last match for an African club as Monaco coach, Arsene Wenger, was waiting. His compatriot, Claude Le Roy, who was coach of the Indomitable Lions had invited him to come and watch this wonderful African boy. Wenger and Weah boarded the next available flight to Paris after that match.
READ ALSO: SPORT FLAKES: AMUNEKE, TANZANIA AND BIAFRA
Weah and Nigeria share the same birthday. He was born on October 1, 1966. When his first attempt at the Liberian presidency failed, he was invited to Nigeria by President Olusegun Obasanjo. In October 2017, President George Manneh Oppong Weah was at Prophet T.B. Joshua's Synagogue Church of God, Ikotun- Egbe Lagos, with Prince Yormie Johnson.
To cap it all, when President Weah decided to hang his cleats officially, he invited the Super Eagles to Liberia for friendly. That was on September 11, 2018. The jersey number 14 was retired in his honour.
Yobo moved on to play in three World Cups. Weah could not do it even once. The Nigerian also captained the national team. He played in England [Everton, Norwich City] like Weah. played in France[ Marseille] like Weah and quit in June 2014 after the Eagles lost to Les Blues of France. Yobo started with Michelin Port Harcourt and his first European club was Standard Liege, Belgium.
Weah's children play soccer. Yobo's elder brother, Albert, also played for Nigeria. He made his debut against Zambia in a December 1997 friendly. It is interesting that Joseph Yobo's Eagles debut was against Zambia on March 24, 2001 in a World Cup qualifier in Chingola. The Yobo brothers were Junior internationals.
Albert was a member of the Eaglets squad that lost to Oman in the quarter finals of the Ecuador '95 FIFA Under -17 Championship. Joseph was in the Flying Eagles team that could not go beyond the quarter finals of the Nigeria '99 FIFA Under -20 tournament. The Ecuador '95 Eagles had players whose brothers had played for the senior national team.
There were Iginewari George, Kingsley Amuneke, Johnson Oruma and James Igwilo. The goalkeeper had the same name as a Nigerian sportswriter, Segun Adeyemi. There was also a Segun Adeyemi who played for the Flying Eagles. Today, the sportswriter who worked with the News Agency of Nigeria [NAN] is Media Adviser to Information minister, Lai Mohammed.
Joseph Yobo, capped 101 times by Nigeria, captained the Eagles to a third Africa Nations Cup victory at South Africa 2013. On February 12, 2020 he was appointed Assistant coach, Super Eagles.