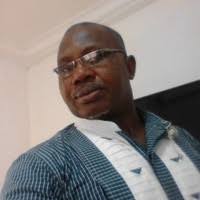 Nigerian Academicals won gold at the First Nigeria/Ghana Sports Festival, Lagos '74 after pounding Ghana 5-1. Ably led by Nnamdi Egbukichi, they did what the Green Eagles could not. The Black Stars of Kwasi and Dan Owusu ran away with the gold in the senior category.
Black Stars had lost 4-2 to the Eagles at the same National Stadium, Surulere during the Lagos '73 Second All Africa Games, only to come back later in the year to kick their hosts out of the West Germany 1974 World Cup qualifiers in a hotly contested duel that nearly cost lives.
When Egbukichi and the Academicals damaged Ghana 5-1, it was a big relief. In goal for the hosts was Andrew Laari who was carried shoulder high by the crowd after the drubbing, for frustrating the opposition. Well known in Lagos, the Izon boy from Kpakiama in Bomadi had moved to St. Gregory's from United Christian Secondary School, Apapa.
Onochie Iwugo lived up to his nickname, 'Dangerman', reducing keeper Peter Dzakpasu to an empty basket. Also on the Nigerian side were Moses 'Mogambo' Nweke, Godwin Odiye, Francis Nwosu, Taiwo Ogunjobi, Francis Ossai, Olufunto Adebayo and Joseph Aniedobe.
Dan Anyiam was coach of the Nigerian Juniors. He was also in charge at Enugu Rangers. The former Nigerian skipper wanted Egbukichi to join the Flying Antelopes to fortify the defence. Francis Nwosu (German Wall) was an attraction, as well.
Egbukichi said: "Rangers came to Government College, Umuahia to pick me. I was a regular at their trainings. They were looking for a replacement for Ernest Ufele, a the right back, who was recovering from injury."
Rangers was full of hard men, some of them Biafran veterans who saw action during the Civil War. Wing back, Nwabueze Nwankwo, had a way of welcoming new players. Nicknamed Bulldozer, he charged like a bull and trampled upon greenhorns, like an elephant.
Egbukichi, also known as 'Stability', stood his ground. "Bulldozer wanted to intimidate me but I gave it back to him. I knew how to make good use of my elbow. And I used it very well", he told me from his United States home. Patrick Ekeji went through the Bulldozer treatment in 1973 playing for the East Central State ( ECS) team, Spartans.
After earning respect as an equally tough defender, Egbukichi felt Rangers would not help his future. There was behind the scene player – politics which put him off. He also listened to wise counsel by Dominic Ezeani and Emeka Onyedika who advised him to think more of education than soccer.
Egbukichi weighed his options and chose city rivals, Vasco Da Gama. The edge was that the telecommunications club offered a job opportunity with training at Oshodi, Lagos. After soccer, there was going to be life in the industry.
Ekeji, Obed Ariri, Ahamefula Umelo and Tony Uzoka who played for the 1971 Adebajo Cup winning ECS Academicals were fully settled at Vasco. It did not matter that their mates, Ezeani, Godwin Ogbueze, Damian Odo and Kenneth Ilodigwe teamed up with Rangers.
Vasco, got him and Rangers lost out. Egbukichi would not forget Rangers captain, Dominic Nwobodo, who gave out some great football lessons. In the last days of his career, Alhaji found his way to Vasco Da Gama before retiring into coaching, with a German certificate.
Vasco was equally blessed with stars. Nweke and Iwugo chose the club as well. They found Johnny Nwadioha, James ' Perm Sec' Udemba, Innocent Nwankwo, Francis ' Old Ghana' Okorie, Alphonsus Dike, Ignatius Ilechukwu, Sylvester Onwukwe, Ope Kanakana and the hard tackling Ojay Chukwu.
Education was the objective. Egbukichi left football for greener pastures. He landed in the United States. Seattle University gained what soccer lost. Ezeani, Ilodigwe, Ariri, Udemba, Nweke, Ogunjobi, Ogbueze and much later Odiye, were also Yankee bound.
Egbukichi's story is exciting. An Mbaise boy, raised in Zaria and Kano, respectively. He attended St. Michael's Anglican School, Zaria. In Kano, the boy watched Ismaila Mabo play for the Police. Then crisis came. Egbukichi's father, a World War Two veteran, sensed danger. He sent his young family back to the East before the killings began.
The senior Egbukichi would have been consumed, but his friend, Garba, hid him from the mob until the atmosphere created an opportunity to escape and reunite with his wife, four daughters and only son. In Biafra, young Nnamdi was conscripted by Biafran soldiers. His mother stood her ground and refused to go until they let go, her only boy. She won.
Egbukichi would later register at Methodist College, Uzuakoli where he excelled in soccer. Some of his team mates were Obidike Ogbonna, Ahamefula Ugah, Philip Uche, Enyioma Igbokwe and Uzoma Onyemere (Breaker ). From Uzuakoli, he went to Umuahia for Higher School Certificate. Nweke was there from St. Theresa's, Nsukka.
In 1974, Egbukichi captained the ECS Academicals against Lagos State in the grand finale of the Adebajo Cup. In that squad were Ikechukwu Ezidinma, Iwugo and Nweke. Lagos had Laari and Francis Nwosu who left the East for St. Gregory's. Lagos won 2-1.
"The Lagos winning goal came through a dubious penalty. The referee just gifted them that game," Egbukichi said. Some of the players are late. Iwugo died in a crash after picking his degree certificate from the the University of Ibadan. Laari died in Abuja, 2021, after retiring from the Central Bank as a Deputy Director.
Egbukichi continues to be eulogized. Donnie Ikpa described him as "one of my early influencers to pursue further studies overseas." According to Maxie Ehieze, "he was truly built for the role. Egbukichi was the bulldozer who ensured stability on the field."