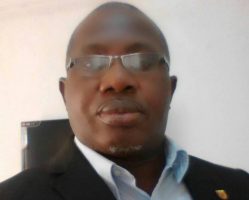 Nigerian stars shine in America, the country of Stars and Stripes. The United States is also the land of the Star Spangled Banner. Oluwatobiloba Ayomide Amusan realised her life long ambition in God's own country.
Better known as Tobi, the hurdler is the new global 100 metres Hurdles champion. She did it in a big way at the World Championships shattering continental and world records.
In the heats, Tobi set a new African record of 12.40 seconds. In the semi finals she made a new world mark of 12.12 seconds. It got even better in the finals where the Nigerian did better than Olympic champion, Jasmine Camacho – Quin to set a new record of 12.06 seconds. No thanks to the wind, the record is not recognised.
When folks say America, their America, they could be referring to Nigerians. Dick Tiger, Peter Konyegwachie, Innocent Egbunike, Sunday Uti, Oluwarotimi Peters, Moses Ugbisien, Chioma Ajunwa, Green Eagles, Dream Team and now, Tobi Amusan.
Richard Ihetu only became world Middleweight boxing champion when he relocated to America from Britain. Popularly known as Dick Tiger, the pugilist beat home boy, Gene Fulmer, at Candlestick Park, San Fransisco in 1962 to wear the belt.
Dick Tiger improved on that record in 1966 when he moved up to the Light heavyweight division to become the first African to be champion in two different weight categories.
His challenger, Jose Torres of Puerto Rico had a bad day at New York's Madison Square Garden. For that feat, Tiger was the only fighter voted Boxer of the Year twice in the 1960s by Ring Magazine.
Nigeria's first Olympic gold medal was won by Long Jumper, Chioma Ajunwa at Atlanta '96. The country's first Olympic bronze medal came earlier at Los Angeles '84 through Featherweight boxer, Peter Konyegwachie who lost controversially to Meldrick Taylor of the United States.
It was also at Los Angeles '84, that we earned our first Athletics medal, a bronze in the men's 4×400 metres relay through the quartet of Egbunike, Uti, Peters and Ugbisien.
The Dream Team won Africa's first Olympic soccer gold at Atlanta '96. Two years earlier, the Super Eagles had made their Mundial debut at USA '94, as the fifth best in the world and came out as the Most Entertaining Team.
Tobi was not lucky, the first time she competed in America. Infact, it was a disaster. And Eugene, Oregon was the ground. Yes, the same Eugene, Oregon where she was crowned World Champion.
At the 2014 World Junior Athletics Championships, she was set but did not even start. This was after the lass had won silver at the African Under 15 Championships in Gaborone, Botswana.
And from that sad experience in Eugene, Tobi did not win gold in any global Championships until the sweet dream in the same Eugene. We may have to change her name to Eugenia.
READ ALSO: Presidential Guard Attack: Yahaya Bello Grieves Over Army Officers' Death
At the World Juniors, Budgoszcz 2016, she got to the finals but finished in the fifth position. At the Rio 2016 Olympics, Tobi could not go beyond the semi finals. That was also the story at the London 2017 World Championships.
Things did not get better at the Doha 2019 World championships. Tobi qualified for the finals but missed a medal by a whisker after placing fourth. History repeated itself at the Tokyo 2020 (2021) Olympics.
The same Tobi had kissed Commonwealth gold at the Gold Coast 2018 Games. She was All Africa Games champion at Brazzaville 2015 and again, at Rabat 2019.
Tobi was African Junior champion at Addis Ababa 2015. She took that to the Seniors, winning at Asaba 2018 and Mauritius 2022, respectively.
Prior to her Oregon gold, the new world champion, joined the Diamond League of Winners. She did in 2021 and proudly repeated it this year in Paris.
Tobi has wiped Nigeria's tears of 39 years. The first IAAF World Championships took place in Helsinki, Finland, 1983. Expectations were high that gold would be achieved.
The Nigerian team comprised five great athletes who excelled at the Edmonton 1983 World Universities Games, Universiade.
Chidi Imo was 100 metres gold winner. Innocent Egbunike did the same in the 200, Sunday Uti in the 400, Yusuf Ali in the Long Jump and Ajayi Agbebaku in the Triple Jump.
Against all expectations, only Agbebaku earned a medal and it turned out to be bronze.
More tears flowed in 1987. Egbunike had run most sub 45 seconds in the 400 metres and was good enough for gold at Roma '87. Two weeks before the competition, the quarter miler set a new Commonwealth and African record, 44.77 secs, in Zurich.
Gold turned to grief when East German dark horse, Thomas Schonlebe snatched it from Egbunike with a European record of 44.33 secs.
Until Tobi's gold, the top spot continued to elude Nigeria. Glory Alozie, a world class 100m Hurdler did all she could but her best was silver at Sevilla '99.
President Muhammadu Buhari must treat Tobi Amusan like the queen she is. Green Eagles got national honours, houses and cars for lifting the African Nations Cup in 1980, thanks to President Shehu Shagari.
Golden Eaglets were given houses and national Award for winning the FIFA Under 17 Championships, Nigeria's third time, in 2007 by President Umaru Yar'adua.
Tobi is a world champion and should be commended for not dumping Nigeria. Alozie did after losing her friend, Hyginus Anugwom at Sydney 2000.
Ebelechukwu Agbapuonwu won gold in the 400 meters at the Doha 2019 World Championships. She represented Bahrain and changed name to Salwa Eid Naser after Nigeria treated her shabbily.
Agbapuonwu's coach, John Obeya was jobless many years after taking Nigerian athletes to the Sydney and Beijing Olympics.
Tobi deserves more from the Federal Government for remaining a Nigerian. The Ijebu Girl must get more than a bungalow from Ogun State governor, Dapo Abiodun. She is more than Big Brother Naija. This one is Big Sister Worldwide.
Many former female Hurdlers, national and African champions, will be all smiles now. Modupe Oshikoya,Maria Usifo, Obayemi, Belca and Julio Belgam, Felicia Ochonogor, Emilia Edet, Hilda Oseni, Hope Obika and Mosun Adesina, all began this journey.
Keni Harrison whose 12.20 secs. World record was eclipsed by Tobi is also happy. Aso Villa must give the new world champion bundles of fresh naira notes from the Central Bank and it must not be less than 100 million because Toby has dollars in her pocket and knows the exchange rate.