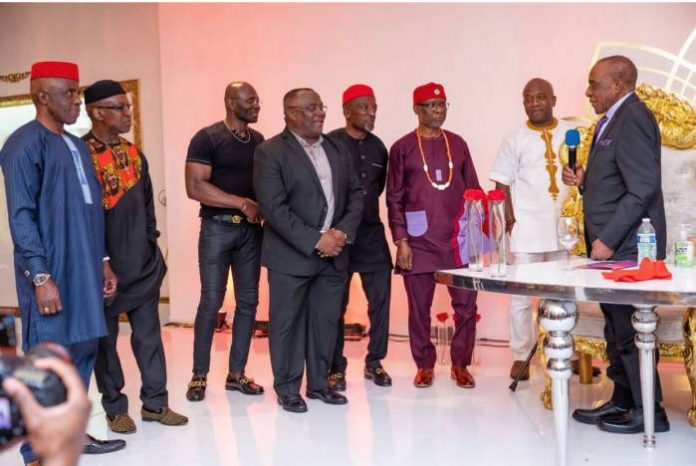 The good men do lives with them forever, dead or alive. Enugu Rangers Veterans rolled out the red carpet to applaud Dr. Robert Duhu, one of the spotless soccer administrators that kept them going. Maryland, United States hosted the grand event.
Duhu was Director of Sports, Anambra State from 1976 to 1985. During his time, Rangers lifted the African Winners Cup in 1977. The club won the Nigerian League four times, 1977, 1981, 1982 and 1984. Thrice, Rangers were Challenge Cup champions, 1976, 1981 and 1983.
It was a colourful event to mark Dr. Duhu's Golden Jubilee as husband of Rose, nee Anakwe. Ex- Enugu Rangers, USA turned it to another Challenge Cup final with a spice of FESTAC '77 like cultural display.
The proud husband is not only a good dancer but was Dance Instructor in his younger days. You can imagine soccer and samba put together, to celebrate a sweet soul. The atmosphere was electrifying.
The powerful Ex- Enugu Rangers USA squad was led by Chief Donald 'Stone' Igwebuike, Chairman of the association. He is better remembered as the Nigerian Superstar who switched to American football and also hit it big.
Vice chairman, Ike Ofoje was there with Sam 'Achimota' Onyeaka, the dazzling winger who made Senegalese go bunkers in Dakar following the elimination of AS Police by Rangers on the way to continental glory in 1977.
Another 1977 winner, Vincent 'Macbeth' Chika graced the occasion, a few weeks after his son, Okey got married. There was Azuka Harbor, the second Nigerian to play for the USA national soccer team, and Geoffrey Madueke.
Pioneer Rangers, Kenneth ' Magician' Abana and Emmanuel Okala sent congratulatory video goodwill messages. Chairman Christian Chukwu expressed his feelings too. So did Ifeanyi 'Ahidjo' Onyedika and Sylvanus 'Hafia' Okpala, both African Nations Cup gold medalists, like Chukwu and Okala.
Patron, Enugu Rangers Veterans Worldwide, Sir Benson Ejindu (Ezeomeogo) made adequate plans to attend. However, unforeseen conflict in his schedule did not help. 'Policeman' Nnamdi Anyafo and Emma Merenini, part of the African Winners Cup team of 1977, were held back by last minute snags.
The honour done to Duhu means a lot. As an administrator, he came out clean. Some others in his shoes could tamper with players' welfare. It still happens in our clime where fund meant to develop players ends up in the wrong pockets.
Duhu should be singled out for commendation because stars who won the African Winners Cup in 1977 with the Coal City team have not forgotten how some officials misappropriated the cash reward they got from Gen. Olusegun Obasanjo, Nigerian military ruler at the time.
For speaking out, some of the players were sanctioned. Chimezie 'Watch me' Ngadi, leading scorer in the 1977 continental campaign with five goals, was suspended. Christian 'Gabu' Madu was not spared. Onyeaka made the black book.
Igwebuike praised Duhu. " I am glad we were able to honour Dr. Duhu for his service to the sports men and women of old Anambra State. We should honour people while they are still alive," the ex- Tampa Bay Buccaneer said.
READ ALSO: Lagos Residents Call For Stiffer Measures To Check Underage Access To Hotels, Alcohol
Duhu is very much at home in the United States where he acquired a chain of degrees in Health and Physical Education. From a Bachelor's at Springfield ( Massachusetts) College in 1966, the man bagged twin post graduate honours, Msc and MA from the University of California, Los Angeles in 1967 and 1970 respectively.
Not done with three degrees, Duhu moved up to earn a PhD in 1971 from the University of California. After that he settled down to teach as an Assistant Professor at California State University.
As a home boy, Duhu returned to Nigeria and was employed as a Lecturer at the Alvan Ikoku College of Education Owerri in 1976. That was his base before East Central State was split and he moved to Anambra.
It is remarkable that even with his twin degrees, Duhu and his wife, Rose also produced twins, Velda and Jerry. They came after Tochi. Bella and Enuma followed them.
READ ALSO: Tariff Hike: Lawyer, Group Disagree With MultiChoice On Tribunal Jurisdiction
Born in Mbu, Enugu on October 9, 1936, the old man's sights are clear. Of course, Bella is a Doctor of Optometry.
Duhu, according to Igwebuike, lived in Nigeria until about five years ago when his son asked him to hit America once again. Yankee is like second home.
The man is sociable. If you allowed him, he could go on jogging and playing tennis, if not volleyball.
At Springfield, Duhu belonged to the Metropolitan Club alongside compatriots, Nwabuisi Iroaga and Harry Etukudo. Their Faculty Advisor, Dr. Attallah Kidess was once coach of the Israeli national soccer team and a 1936 Berlin Olympian.
There were other African Metropolitans, Milla Bekele, the Ethiopian and Alae E.Sayed, from Egypt as well as Sweden's Lars Wahlstrom and Welshman Augustino Basini.
Duhu had also received encomiums from the Marquis Who's Who List as a Noteworthy Education Educator and Researcher.
I missed the party in the United States. I don't know about cows there even as I remember Ricky Nelson's track, 'Milk Cow Blues'. If that party had held in Enugu, I bet you, there would be surplus suya.
Duhu's mother, Virginia was also known as Oliefi (efi means cow in Igbo). It was interesting that his father, Nnamani also went for an Eze Nnamani.
We cannot stop eulogizing Dr. Robert Duhu, member of the Presidential Monitoring Commission (PMC) on Stadia between 1995 and 1996. He is a good man and also a happy man.