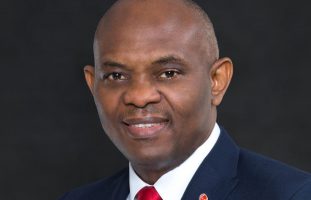 Founder of the Tony Elumelu Foundation and the Chairman of United Bank for Africa, Tony Elumelu, has called on the federal government to increase support for the National Agency for the Prohibition of Trafficking in Persons (NAPTIP), even as he challenged the private sector to join in the fight against human trafficking.
Hosting the Director General of NAPTIP, Julie Okah-Donli, Elumelu appealed to the government to increase budgetary funding to the cash-strapped agency, saying "as private companies, we pay taxes to the Federal Government and we want to see a more judicious use of the taxes paid."
Whilst calling on other private sector players to join the agency to fight human trafficking, he said "if the agency succeeds, we will all succeed. Let us come together to make sure our youth, our future leaders, are not trafficked."
On behalf of the Foundation, he pledged commitment to the war against human trafficking. "We support what you are doing and we stand behind you. The Tony Elumelu Foundation believes in the empowerment of our youths and as we all know, they cannot be empowered if they are not free.
"We stand with you in eradicating human trafficking in Nigeria and will engage extensively with you as you work to restore dignity to mankind, protect the dignity of our youth and ensure no one can take undue advantage of them."
Read also:  Stock market rally beats down interest in FGN savings bond
According to Okah-Donli, UNESCO ranked human trafficking as the third most lucrative criminal enterprise in Nigeria.
Thus, he said, agencies like NAPTIP needed good laws, sustained funding and equally important, critical support from local and global stakeholders to execute the urgent war against human trafficking.
"We can no longer wait for government alone to fight this war. Many victims are on standby, anxious to be fully reintegrated into society. At the agency, we are desperate for assistance to empower and rehabilitate these< millions of victims in need. Thus, we are identifying and approaching organisations like the Tony Elumelu Foundation (TEF) for support."
She noted that the agency needed "to refurbish and rehabilitate our existing shelters, facilitate periodic provision of food, clothing and medical consumables and shelter for victims. We also need assistance in the development of standard skills' acquisition centres in strategic locations for the training of vulnerable persons, as well as rescued victims."