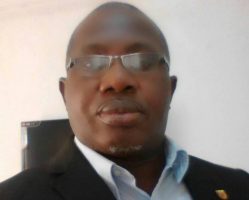 When the Golden Eaglets won the maiden FIFA U-17 tourney in 1985, the Buhari /Idiagbon government asked the players' various state governments to name streets in the state capital after them. Vice Captain, Fatai Oluwakemi Atere's eyes were on Broad Street which was once named after General Yakubu Gowon.
Gowon had appropriated Broad Street to his name until the coup that consumed General Murtala Mohammed in 1976. The Obasanjo/Yaradua regime had accused the Berom man of playing a role in that bloody act. He lost a lot of privileges for that.
The Lagos State government under Gbolahan Mudashiru did not let Atere have his way. Infact, there was no street in Ikeja named after the footballer. What he got was a street in Mushin, around Matori instead of Ikeja or Lagos Island. Small boy dreaming big, you know.
After the China celebrations, Atere 's career did not blossom. In 1987, he led the Eaglets to defend the trophy in Canada. It was mission impossible in the grand finale against the Soviet Union, at the Varsity Stadium, Toronto, no thanks to Brazilian referee, Jose Ramiz Wright.  The match ended 1-1 after full and extra time. The USSR won through penalty kicks.
Although the Eaglets lost the cup, Philip'Zanza' Osondu won the Golden Ball as the tournament's Most Valuable Player[MVP]. The team won the Fair Play trophy. It was Africa's first double.  Moussa Traore of Cote D'Ivoire picked the Golden Boot with five goals, edging out  Yuri Nikiforov of the USSR who also scored five goals, on technical grounds because the Russians  conceded more goals.
In Canada, Atere was not as formidable as he was in China two years earlier. In the quarter finals against Australia, he was injured and promptly replaced by Christopher Nwosu who went on to net the lone and winning goal of the match.
Many would remember Atere 's  quick goal against Guinea in  one of the 1985 semis. It ended 1-1. In the ensuing penalty shoot out, Nigeria won 5-3. That was 18 days before Gen. Ibrahim Babangida sacked Gen. Muhammadu Buhari as Head of State.
Atere was at the time a student of Igbobi College, Lagos and had schoolmates Jonathan Akjpoborie and Segun Fapetu in the team. All three later relocated overseas. Akpoborie ended up in Germany as a successful professional.  Fapetu moved to the United States while Atere flew to the UK and much  later to the US where he bagged a degree in Psychology from  Washington State University.
The other Lagos Boy in the team was  Captain Anthony Nduka Ugbade [St. Finbar's, Akoka ]. That School also produced Stephen Keshi, the first Nigerian to win the Africa Nations Cup as player and also a coach.  He was also the first Nigerian to lead three different Nations to the competition.
Some players from Lagos who were part of the qualifiers did not make it to China. Boys like Taiwo Oloyede[ CMS Grammar, School, Bariga], Michael Solesi[Holy Saviour's College, Isolo] and Segun Olusesi[Baptist Academy].
Benin City offered five players. Baldwin Bazuaye and Hilary Udumebraye Adiki, came from Edo College. Victor Igbinoba and Kingsley Aikhionbare, from Western Boys High School and keeper Lucky Agbonsevbafe, Adolo College. Of course, Coach Sebastine 'Sabara' Brodericks –Imasuen, played for Bedel Insurance.  Two other Benin Students, Michael Ndubuisi and Ernest Inneh, could not travel to China.
READ ALSO: Asensio ends Madrid's victory drought
From the Garden City came Imama Amapakabo [Government School], Carlos Binebi Numa[Enitona High School] and Roland Tonworimi Duere[Government Sea School, Isaka] who like Atere also played for the 1987 Eaglets. He got a red card in the 1985 grand finale against Germany from Aussie referee, Christopher Bambridge.
The 1985 Eaglets team was pan Nigerian. The North had Sani Adamu Na Ali and Salisu Hassan Nakande [Government School, Laranto-Jos], Yahaya Mohammed[ Government Secondary School, Funtua-Kaduna], reserve goalie, Aboubakar Dele Alhaji[Ilorin Teachers College] and Assistant coach, Bala Shamaki.
From Boys High School, Awkunanw, Enugu, we had Chukwuma Nwoha from Imo State. He has a street named after him in the choice Aladimma Housing Estate where such important personalities like former World Middle weight and Light Heavyweight boxing champion, Dick Tiger Ihetu and First Republic minister , Raymond Amanze Njoku  are equally honoured.
Team Manager, Christian Chukwu, did not only captain the Eagles to their first Nations Cup  victory in 1980, he had in 1977, led Enugu Rangers to win the Africa Winners Cup, in Yaounde Cameroon over Canon Sportif. We are not leaving out Bella Momoh Akpagamah, from Ibadan Grammar School who scored six goals.
Today, Atere lives in America[since1989] with his wife and three grownup children and works with the National institute of Health. He was in London for half a decade where a deal with Tottenham failed.