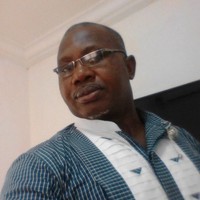 United States Shuttle Ambassador, Andrew Young visited Benin City in 1977, oblivious of the Ogbe  Hard Court International Tennis Tournament. When he was informed, the diplomat made it more eventful and even on his way out of the town, journalist Nkem Osu got more out of it.
What took Young to the venue was the presence of American stars, Leslie Allen, Jesse Holt and Diane Morrison. He was quickly introduced to the players by coach Bob Davis. There were also two Canadians, the Fritz brothers, Harry and Guy.
From visitor, the Ambassador went to court. He paired with home girl, Veronica Oyibokia in a mixed doubles game. That added colour to the whole show. Young also fired up finalists, Leslie and Diane. Osu was preparing to lay ambush for the welcome guest.
Osu opened up to me recently. He said : " I was a Sports producer/commentator at the Nigerian Broadcasting Corporation (NBC) Benin City. At the time I saw Young, he had finished his pep talk with Leslie and Diane and was departing for the airport.I had to request our driver to go after his entourage."
The driver followed the convoy and as as fast as he drove, Osu was unable to catch up with his target in good time. Young hopped into a waiting aircraft at the Benin Airport. The reporter pursued him and got as far as the tarmac.
Osu did not give up. He approached the Bendel State  commissioner for Information, Chief J.O.S. Ayomike for assistance. To talk to Andrew Young was task that must be done. Going back was like retreat. The reporter refused to surrender.
According to Osu: " Chief Ayomike obliged, went into the aircraft, spoke with Young who alighted and behold I was face to face with the man. Though I just had a three-minute audience with him, I was fulfilled. My boss, Chief Philip Chiazor as well as Diokpa Ben Moeteke and Mr. Ephraim Osubor were so proud of that feat.
"Infact, I felt on top of the world. The United States Information office in Benin City later requested for the dubbed version of the interview."
The radio commentator also spoke about his encounter with Enugu Rangers and Green Eagles captain, Christian Chukwu. It began as an embarrassment but ended up in glory for Osu and Rangers admirers.
" I admired Enugu Rangers right from my secondary school days in the early seventies. I had this childhood dream or say, fantasy about the dramatis personae ranging from Christian Chukwu, the Okala brothers, Emmanuel and Pat, Sam Onyeaka (Achimota) to Pat Ekeji.
"My first physical contact with this examplary team was in 1978 when the Coal City Boys had a friendly date with Bendel Insurance at the Ogbe Stadium. On arrival at Benin, they lodged at the Crown Hotel which was just a two- minute walk from our Broadcasting House, along Ikpoba Slope."
READ ALSO: Businessman Docked Over Alleged N500,000 Land Fraud
Seeing  players like Adokiye Amiesimaka, Okey Isima, Ifeanyi (Eusebio) Onyejiaka, Mike (Jegede ) Ochiagha, Vincent (Macbeth) Chika, Arthur Egbunam, Amaechi (Darkness) Igweobi, Sylvanus (Hafia) Okpala and Humphrey Okechukwu was a delight.
"When I got to the hotel, I couldn't believe I was seeing these chaps live especially Chukwu whom I held in awesome esteem. My initial reaction was to grab his right leg which haboured canon like shots. To say the least, he was embarrassed and frowned at such ride and and suspicious gesture.
"The Team Manager, Bob Odume (Baba Anyi) whom I knew in his days at Vasco Da Gama, Enugu came to my rescue explaining that my action was that of admiration. Also Nduka Irabor who accompanied me to the hotel chipped some words to assure chairman that I meant no harm. That was how Chukwu and I got closer".
The friendly game itself lived up to billing. "On match day, Benin City shut down for the Rangers/ Bendel Insurance friendly attracted maximum crowd. The Ogbe Stadium was filled to capacity before 12 noon. Enugu Rangers supporters came from every corner of Nigeria.
"As commentators we waded through human sea to get to our commentaries box. There was a hitch during the live broadcast and I was detailed to the Broadcasting House at Ikpoba Slope to trouble shoot. You won't believe that I couldn't find a taxi from the stadium to Ring Road. When I found one at Akakpava Road, I discovered that the hitch had been rectified. Hence I returned to the stadium", Osu added.
Irabor who later edited the Guardian Express, worked with Adm. Augustus Aikhomu as Chief Press Secretary and later headed the League Management Board, began his career in Benin as a broadcaster.
" Nduka Irabor and I met and  passed out from Anglican Grammar School,Ubulu Uku, a school that produced the likes of James Udemba and Andrew Obi of Vasco da Gama, Enugu. We later met at Benin City where I was already a staff broadcaster in the Outside Broadcasts/ Sports unit of the station with Dr. Emmanuel Egharevba," Osu disclosed.
Osu is a veteran. From broadcasting he veered into Public Relations. In 1983, the man was the PR officer, Nuel Ojei Holdings Limited. Journalism took him to African Concord and Champion newspapers respectively.
Osu worked with COJA for a successful Nigeria 2003 All Africa Games. He is also into politics, having served as Chief Press Secretary to Hon. Victor Ochei, former Speaker, Delta State House of Assembly, a man described as "compassionate, selfless, resourceful, God fearing as detribalised leader."