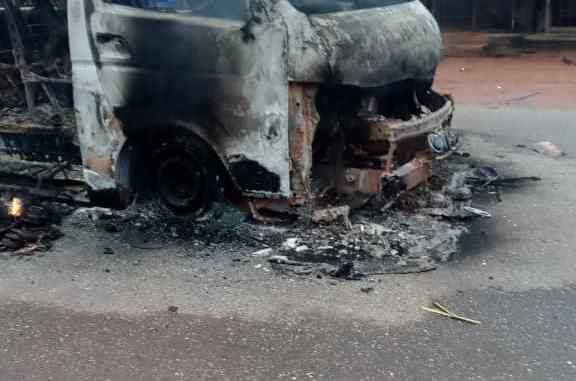 As the sit-at-home order by proscribed Indigenous People of Biafra (IPOB) resurfaced in Imo State, a bus driver yet to be identified have been burnt alive inside the bus at Mbaise in Imo State by some gunmen.
Also set ablaze by the gunmen at the same Mbaise was a truck heading to Owerri.
The bus loaded with passengers was coming from Owerri before it was attacked and set ablaze at Oboma Nguru Mbaise, while the truck heading to Owerri was equally burnt at Ahiara junction.
An eyewitness said that before setting the bus ablaze, the passengers were ordered out of the bus by the gunmen.
Meanwhile, residents of Owerri on Friday shut down their businesses and stayed back in their various homes and houses in obedience to the IPOB order.
READ ALSO: We Must Not Allow Divisive Sentiments Put Us Asunder – Masari
The situation virtually paralysed both economic and social activities in the entire state.
All the major roads such as Mbaise, Okigwe, Wethedral, Duglas, Port Harcourt, Onitsha and Aba Road and streets in Owerri were practically empty as a motorist and commercial vehicles were nowhere to be found to convey few stranded passengers on the roads to their destinations.
The situation at the premises of hotels, eateries, motor parks, commercial institutions, business centres in Owerri was the same as their gates were under lock and key.
Tribune Online correspondent, who monitored the situation in Owerri said that the entire streets of Owerri were empty, while both small and major markets in the city were closed.
Nigerian Tribune