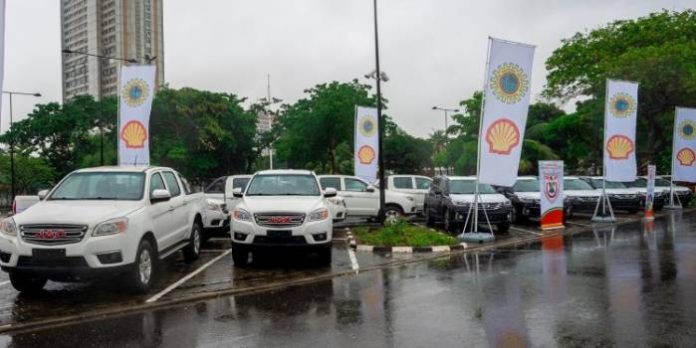 To enhance policing and facilitate quick response to distress calls, which are considered to be critical in crime prevention, Shell Nigeria Exploration and Production Company Limited (SNEPCo) has presented 16 units of security vehicles to the Lagos State government.
The state governor, Babajide Sanwo-Olu, at the handover of security operations vehicles to Lagos State Security Trust Fund (LSSTF) on Wednesday at the Lagos House Marina, was excited over the donation, saying, "this is another confirmation of collaboration, another promise kept, another public private partnership that is working for us in Lagos State."
Sanwo-Olu thanked the body for the donation and expressed optimism that they would go a long way in enhancing operations of security personnel in keeping the state free of criminal activities.
He said the state government had solicited the support of the private sector in Lagos and SNEPCo expressed commitment to providing something for the state.
"So, this was a commitment made to us months back, but we are indeed grateful that with the very difficult terrain all of us have gone through, they have been able to make it, together with their joint partners – NNPC, Exxon Mobil," he said.
READ ALSO: Wike Commends Shell for Donating World Class COVID-19 Test Machines to Rivers State Gov't
Noting that SNEPCo did this because the state government had shown consistent transparency in transaction with the oil firm, the governor added that the security support would be used judiciously.
"So, we want to reassure you again, that while we are Oliver Twist, we will continue to ask for more because we see ourselves as joint partners and we will continue to collaborate," the governor said.
Managing Director, Shell Nigeria Exploration and Production Company Limited (SNEPCo), Bayo Ojulari, in his remarks, commended Sanwo-Olu for his untiring efforts in the fight against COVID-19 and the enforcement of law and order that had kept the over 20 million residents of Lagos State safe in the face of security threats to lives, properties and businesses.
Ojulari noted that Lagos, as the commercial nerve centre of Nigeria, the security threats to businesses human lives and properties were some of the realities, which posed no mean challenge to available resources, with a huge potential to negatively impact the economy of the state and its people and by extension that of the entire nation.
He stated that SNEPCo and indeed Shell Companies in Nigeria (SCiN) recognise the tremendous work the Lagos State government had been doing to strengthen security in the state amid the limited resources.