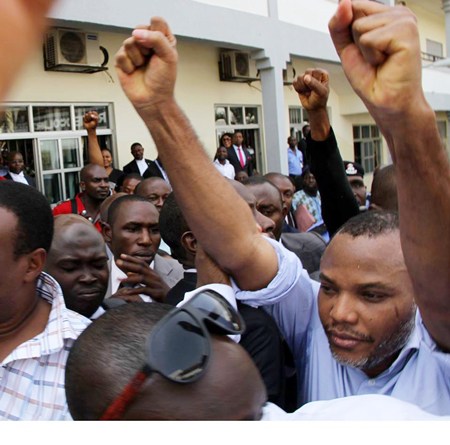 The Indigenous People of Biafra said it was true that it had set up Biafra Security Service, BSS.
The security, however, it said, was a vigilance group and not a standing army as believed in some quarters.
According to the Publicity Secretary of IPOB, Comrade Emma Powerful, the security outfit would only gather intelligence to ensure security in areas considered to belong to Biafra.
Stressing that IPOB was only keen about the safety of the people, Powerful denied that the leaders of the group, Nnamdi Kanu, had made uniforms available for the BSS.
His words:  "Mazi Nnamdi Kanu, the leader of IPOB, did not sew any uniform for these volunteers erroneously called Biafra soldiers. There is no standing Biafra Army and we emphasize the word No. We have security volunteers just like you have vigilance groups. IPOB is legitimately concerned about the well being and safety of Biafrans all over the world.
Read also: Senate tackles Osinbajo over directive for PenCom, CBB, ICPC nominees to resume pending confirmation
"With October 1, 2017 looming, it has fallen on IPOB to ensure the welfare, safety and well being of Biafrans returning home to prevent what happened in 1966 from happening again.
"IPOB will not fold its arms and watch Hausa Fulani Janjaweed embark on another orgy of bloodbath directed at southerners living in the North. That's why BSS was inaugurated to gather intelligence and to safeguard those returning home to Biafraland from the North.
"IPOB is against all forms of lawlessness, from the menace of Fulani herdsmen to kidnapping, armed robbery and cattle rustling. All these< vices will be stamped out in the coming months without recourse to armed confrontation."