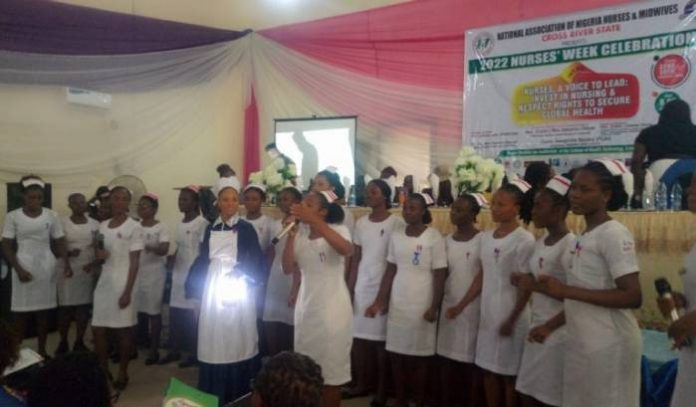 Mrs Josephine Bassey, Chairperson of National Association of Nigeria Nurses and Midwives (NANNM) Cross River Chapter, has called on government to save the nation's health system from impending collapse due to dearth of nurses.
Bassey made the appeal on Wednesday in Calabar at the 2022 Nurses' Week Celebration in Cross River with the theme, "Nurses, a Voice to Lead: Invest in Nursing and Respect Rights to Secure Global Health."
The chairperson said although nurses played a critical role in primary health care delivery, often being the first and only health professional a patient might see, the challenging healthcare situation in the nation was causing massive brain drain.
She said the nurses could no longer keep quiet to the imminent anomalies bedevilling the system and would continue to scream until things were done right especially in Cross River and other states.
"How can a minute number of 847 nurses and midwives employed by Cross River government and 83 in our 18 Local government areas, man and provide such a care that can measure towards health security?"
How can a profession whose population was ageing be churning out professionals yearly but not employing them, guarantee global health security?" She queried.
While calling on government at all levels to employ nurses and midwives, she appealed for the three years of studentship counted for 270 nurses currently in the state's service to be waived.
She said this was to keep them to mentor the eventual new employees in the practice because by 2023, over 50 per cent of the current nursing work-force would retire from service in Cross River.
READ ALSO: Rampant Leeds Stun Chelsea 3-0 In Commanding Win
She added that to curtail brain drain of nurses in the nation, the working environment had to be conducive, devoid of harassments and the implementation of 100 per cent Consolidated Health Salary Structure (CONHESS) in states.
On his part, National President of NANNM, Mrichael Nnachi, said the national leadership was committed to the improvement of nurses' welfare and had secured a proper entry point for graduate nurses in a joint effort by relevant stakeholders.
Represented by Ms Mercy Lenka, National Treasurer of NANNM, he called on nurses in the nation to take advantage of the sponsorship of the Association to further their education to Masters and Doctorate levels.
Nnachi also used the opportunity to call on all nurses to shun apathy and vote in the forthcoming 2023 general elections and the association's unit election for credible leaders in the nation and association.
Similarly, Mr. Ben Ukpepi, Chairman of the Nigeria Labour Congress, Cross River Council, said the efforts of nurses in the health sector could not be overemphasised, adding that without nurses there would be no hospitals.
He added that the union was pushing for the state government to invest in nurses so that hospitals in the state would not be empty in the nearest future. (NAN)