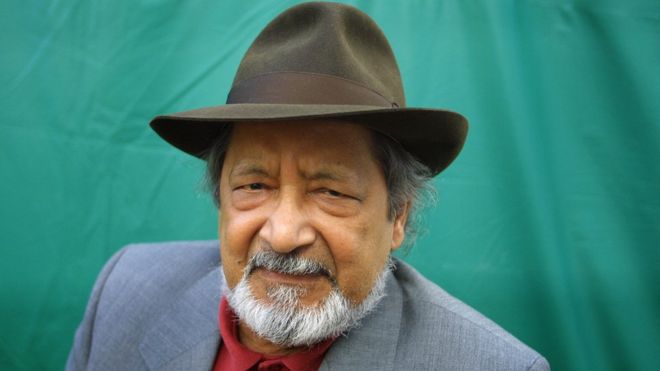 Tributes poured in on Sunday for Nobel prize-winning author, V.S. Naipaul, who has died aged 85, including from many of those who clashed with him.
One of the many writers he argued with, Salman Rushdie, also mourned his passing.
"We disagreed all our lives, about politics, about literature, and I feel as sad as if I just lost a beloved older brother. RIP Vidia," he tweeted.
Indian Prime Minister Narendra Modi said his death was a "major loss to the world of literature," despite the controversy he stoked.
Vidiadhar Surajprasad Naipaul was born in Trinidad into a migrant family who left the northern Indian state of Uttar Pradesh as indentured labourers more than a century ago.
He won a scholarship to study at Oxford University and stayed in England the rest of his life, but travelled widely.
His books focused on the impact of colonialism around the world, blurring fiction with reality and elements of his own life.
Naipaul was best known for works including "A House for Mr Biswas," which partly drew on the experience of his father, and his Man Booker Prize-winning "In A Free State."
Considered one of the finest writers of his generation, he was also an abrasive character.
He once declared that he was without rival, dismissing many of his fellow writers — and all female ones, who he said were "sentimental."
Naipaul increasingly raised eyebrows in his later years, in particular because of his views on religion.
He stirred controversy in India in 2004 by supporting the 1992 destruction of a mosque by Hindu zealots that led to nationwide riots.
A few years earlier, he provoked widespread outcry when he said Islam had a "calamitous effect on converted peoples" as it had enslaved and sought "to eradicate other cultures."
"Sir V.S. Naipaul will be remembered for his extensive works, which covered diverse subjects ranging from history, culture, colonialism, politics and more," Indian PM Modi said on Twitter.
"His passing away is a major loss to the world of literature. Condolences to his family and well wishers in this sad hour."
READ ALSO: Corruption in APC govt will be known when it is sacked in 2019 –Makarfi
The president of India, Ram Nath Kovind, added that his books were a "penetrative exploration of faith, colonialism and the human condition, in his home in the Caribbean and beyond."
"A loss for the world of letters and for the broader school of Indo-Anglian literature."
William Dalrymple, an author and historian who contested Naipaul's defence of Hindu nationalism in India, called him "a giant among us."
"Even if you disagreed with much that he wrote, particularly about India, you couldn't help being  stimulated, influenced & catalysed by the brilliance of his laser sharp vision," he tweeted.