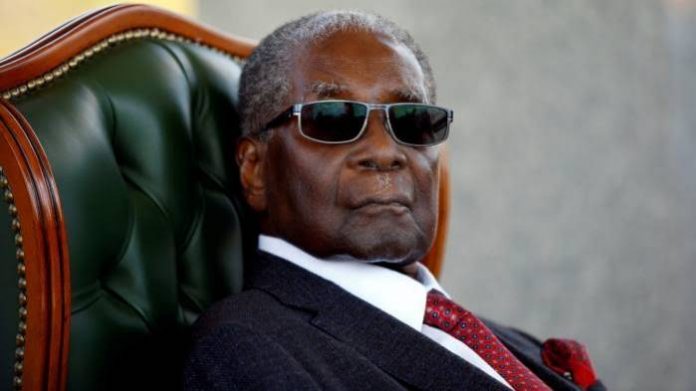 "Power corrupts, and absolute power corrupts, absolutely." – Sir John Dalberg-Acton
The above quote by the late English Baron, Sir John Dalberg-Acton truly encapsulates the story of the former President of Zimbabwe, Robert Mugabe.
Born Robert Gabriel Mugabe on February 21, 1924, to a carpenter in what was then Rhodesia, a country ruled by the white minority, he was educated at Roman Catholic mission schools.
Armed with a scholarship, he headed to Fort Hare University in South Africa, where he took the first of his seven academic degrees before proceeding to teach in Ghana.
During his time in Ghana, Mugabe was greatly influenced by the pan-Africanist ideas of Ghana's post-independence leader Kwame Nkrumah.
He also found love there and married Sally, a Ghanaian.
With his Pan-African ideology, Mugabe returned to Rhodesia in 1960, and aligned with Joshua Nkomo to work for the African nationalist.
He later broke away in 1963 to become a founding member of the Zimbabwe African National Union, ZANU, a militant organisation that fought against white minority rule in Rhodesia.
He was unrelenting in criticising the white minority government and in 1964 after a speech in which he called the then Rhodesian Prime Minister, Ian Smith and his government "cowboys", he was arrested and detained without trial for 10 years.
While in prison, his son died, but he was not allowed to attend the funeral.
In 1973, Mugabe was chosen as president of ZANU and on his release from prison, a year later in 1974, he went to Mozambique where he directed guerrilla raids into Rhodesia.
There is no doubting Mugabe's contributions towards Zimbabwe's independence.
In word and deed and without fear, Mugabe insisted on freedom for the black majority in Rhodesia.
He was perceived as the most militant of the black leaders and the most uncompromising in his demands.
In 1976, while on a visit to London, Mugabe was said to have declared that the only solution to the Rhodesian problem would come out of the 'barrel of a gun.'
However, in 1979 at Lancaster House, London, via a peaceful agreement, a Constitution for the new Republic of Zimbabwe, as Rhodesia was to be called, was set up and February 1980 was chosen for the first elections.
At close of elections, Mugabe, to the surprise of most outside observers scored an overwhelming victory. His party secured a comfortable majority, although the polls were marred by accusations of vote-rigging and intimidation from both sides.
As independent Zimbabwe's first prime minister, Mugabe preached democracy and reconciliation.
Along the line, however, he was corrupted by the political power at his disposal.
For the 37 years of Mugabe's rule, Zimbabwe witnessed high levels of violence, corruption and economic disaster.
His victory at the polls initially had many white people uncomfortable and ready to leave the country, his moderate, conciliatory statements reassured many of them and his other opponents.
He promised a broad-based government, with no victimisation and no nationalisation of private property.
He promised reconciliation.
Mugabe also launched an aggressive expansion of access to healthcare and education for black Zimbabweans, who had been hitherto been marginalised under white-minority rule and people felt it was all good.
But little did they know. Abraham Lincoln once said: "Nearly all men can stand adversity, but if you want to test a man's character, give him power."
This, again rings true with Robert Mugabe, who metamorphosed from a freedom fighter to a tyrant.
He constantly criticised the West, mostly the country's former colonial master, the United Kingdom, denouncing it as an "enemy country."
He also became brutal in his treatment of political opponents.
In the mid-1980s, thousands of ethnic Ndebeles seen as Joshua Nkomo's supporters were massacred in his home region of Matabeleland.
Mugabe was also fingered in the killings, carried out by the Zimbabwean army's North Korean-trained 5th Brigade.
In 1987, he abolished the office of prime minister and became the president. He was to be 'elected' for a third term in 1996.
By this time, it had become obvious to many that Mugabe was nothing but a wolf in sheep's clothing, though he still enjoyed some support.
With a singular decision in 1992, Mugabe destroyed the economic base of the once prosperous country and everything began to go down hill thereafter.
At the death of his first wife, Mugabe married Grace Marufu, with whom he had three children.
In 1992, he introduced the Land Acquisition Act, permitting the confiscation of land without appeal with the plan to redistribute land at the expense of more than 4,500 white farmers, who still owned the bulk of the country's best land.
But Mugabe's critics accused him of distributing the farms to his cronies, rather than the rural poor and with that, Zimbabwe moved from being one of Africa's biggest food producers to having to rely on foreign aid to feed its population.
Things grew from bad to worse and in early 2000, with his presidency seriously threatened by the newly formed Movement for Democratic Change, MDC, led by former trade union leader Morgan Tsvangirai, Mugabe again launched attacks on the farmers, seen as MDC backers.
His supporters, known as "war veterans" occupied white-owned farms and a number of farmers and their black workers were killed.
The presidential election of 2000 saw Mugabe winning 56.2 per cent of the votes while Mr Tsvangirai got 41.9 per cent.
Following allegations of intimidation of MDC supporters, the MDC, the US, UK and the European Union refused to recognise the election.
The Commonwealth also suspended Zimbabwe from participating in its meetings until it improved its record as a democracy.
For a man who started out so well and had every opportunity to end up like a Mandela, Mugabe truly misused his powers, a malady that unfortunately afflicts many African leaders.
In May 2005, Mugabe sadly oversaw a crackdown on the black market termed Operation Restore Order, which allegedly led to some 30,000 street vendors being arrested and whole shanty towns demolished, eventually leaving an estimated 700,000 Zimbabweans homeless.
Zimbabweans, by this time have become truly disenchanted with Mugabe and this resulted in his losing the first round of the presidential elections in March 2008.
However, he later won the run-off in June after Mr. Tsvangirai pulled out following sustained attacks against his supporters across the country.
As tensions got higher on the political scene, the economic decline in the country also accelerated, with inflation rates reaching unimaginable levels.
After hundreds of people died from cholera, partly because the government could not afford to import water treatment chemicals, Mugabe agreed to negotiate with his long-time rival about sharing power.
After months of talks, in February 2009 Mugabe swore in Tsvangirai as prime minister, but the marriage between the two wasn't cosy and Mr. Tsvangirai's reputation was the worse for that experiment.
In 2013, Mugabe won 61 per cent of the votes ending the power-sharing agreement with Tsvangirai. The election of course was said to have been married by widespread violence and other irregularities.
At 89 and in spite of failing health, Mugabe clung on to power even as the question of who would succeed him began to occupy national discourse.
His advancing years, and increasing health problems, led to speculations as to who might replace him.
In 2015, speculations became rife that his
wife, Grace would succeed him. This was even as Mugabe announced his intention to contest in the 2018 elections.
To put paid to speculations over his successor, Mugabe, in February 2016, announced that he would remain in power "until God says 'come'".
The Zimbabwe National Army, however, had other plans and couldn't wait for God's time.
Since they couldn't send Mugabe directly to God, they decided to put him aside to wait on God.
On November 15, 2017, the army therefore placed him under house arrest and made his former vice-president, Emmerson Mnangagwa leader of Zanu-PF.
Yet, he refused to resign until, November 21, when the speaker of the House of Assembly announced his resignation as a motion to impeach him was being debated in the parliament.
Mugabe negotiated a deal which spared him and his family from prosecution and enabled him to keep his various businesses. He was also granted a house, servants, vehicles and full diplomatic status.
On September 6, God finally asked him to come and he went, aged 95.
In his reaction to Mugabe's death, Kaduna State Governor, Nasir El-Rufai, tweeted: "May Robert Mugabe's soul rest in peace. He started well, stayed too long and ended tragically. An African hero all the same and a leader that honestly meant well. His life is a lesson for all in public leadership roles – groom successors and leave when the ovation is still loud!"
If only Mugabe had heard and listened to the above advice, his end would have been better, but it can still be a lesson to other leaders on mistakes to avoid.
At best, the life and times of Robert Mugabe can be said to be a perfect example of how not to lead.