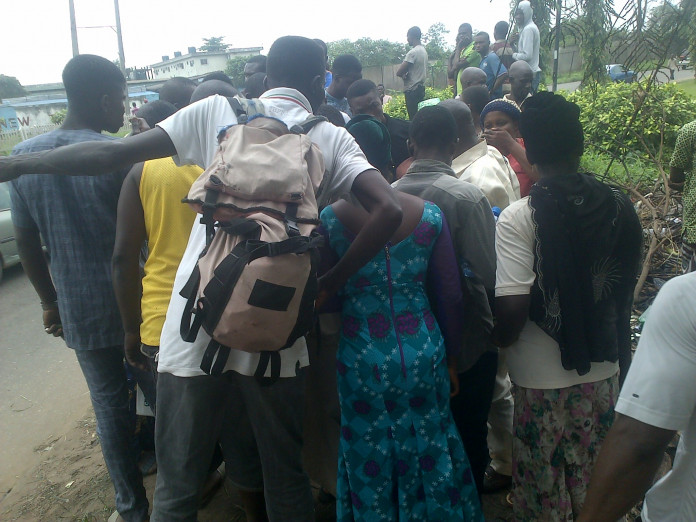 Lagos State is fast becoming a haven for kidnappers and many residents, who feel security agents have failed, are taking the laws into their hands, The NEXT EDITION investigation has shown.
A few months ago, the media was awash with stories of Chukwudidumeme Onuamadike, popularly known as Evans, who made billions from kidnapping people for ransom.
The confession of the kidnap kingpin trended both on social media and traditional media for weeks, thereby raising public awareness on the need for people to know who their neighbours are and what they do.
While Lagosians watched as the Police raided Mr. Evan's palatial home and arrested him and took him away in a piece, the situation has since changed as suspected kidnappers now face instant mob justice.
On August 8, luck ran out of suspected kidnappers near a bus stop in Obadeyi Ajala, along Ijaiye end of the Lagos-Abeokuta Expressway.
On that fateful day, residents of the area uncovered a canal through which unsuspecting persons were being lured to and kidnapped by a criminal gang.
According to a witness, a woman who might have escaped from the canal was heard crying out for help.
"As she was running away, two men were pursuing her with what looked like charms and the people in the area heard her cry and came out," said the witness.
Residents rallied and gave chase and soon the woman was rescued while the suspected kidnappers were set in a blaze of instant "justice."
Nobody cared about fundamental rights of accused persons. All that was important was instant justice.
Barely 48 hours after that blaze of jungle justice, another den of kidnappers was uncovered at Ile Zik, close to Ikeja.
No fewer than 10 suspects were arrested after security agents and residents of the area launched a search for the criminals.
It was the sight of fresh human flesh and valuables in the hands of a suspected lunatic known to residents of the area that stirred suspicion and caused the people to go searching.
On Friday, an angry mob that had been waiting to vent its spleen found two suspected kidnappers emerging from their hideout and readily exacted instant "justice" on them.
Read also: INTERVIEW: Result of fight against corruption will take time- Ozobia
When The NEXT EDITION visited the scene of the crime at Ile Zik, which is between Agege Motor road and Oshodi-Abeokuta Expressway, Ikeja, Lagos, on August 10, the atmosphere was still charged and the mob ready to dish out some more instant "justice."
It, however, took a detachment of heavily-armed policemen to disperse the crowd gathered near the suspected den of kidnappers in the area.
Baba Tope, a mechanic in the area, said, "We have been here for many years. There used to be a mad guy here who we never suspected was a ritual killer until we found him carrying a bag containing human parts."
"As soon as the content of his bag was found, he tried to run away. We chased him and caught him. We used cutlass to hit him but he didn't bleed. People used big stones to hit him on his head, yet nothing happened to him. It was when we were trying to twist his neck that the police came and chased us away."
Another resident of the area, who gave his name simply as Kayode said suspected kidnappers have been terrorising the area for a long time.
Read also:
"They normally come out at night and kidnap people and take them into this tunnel," he said.
"These two," pointing at the lifeless bodies of the suspects, "must have been tired of staying there, so they came out. I am not sure if they knew people kept vigil because of them."
"As soon as they came out, we pounced on them. We beat them and burnt them to death"
When asked why they would not hand the suspect over to the police, he said, "We don't trust them. We have handed over criminals to police in the past but they end up releasing them. It is better to kill them ourselves," he boasted.
Many residents of the area who spoke with The NEXT EDITION insisted they would continue to kill suspected kidnappers until none was left.
A meat seller at Agege, Sambo Lawal, said since the government has failed to protect the citizenry, the masses will continue to search for, arrest and kill criminals.
"If the government does nothing to protect us or discover more of these places, we will do it ourselves. After all, we were the ones that discovered this place, not the police," he said proudly.
"We were about to kill the first suspect we caught on Thursday but all our efforts failed. We hit him with everything available but he didn't feel hurt. We tried the last option of twisting his neck before policemen came and took him away."
A policeman from Oko-oba whose name cannot be mentioned because he was not authorised to speak on the matter, said the mob set two suspects on fire before their intervention.
"Before we arrived, they had already set them on fire. The whole area was smoky. As we tried to disperse the crowd, they started pelting our van with big stones. One of our colleagues has even been injured and rushed to the hospital," he said.
The Agege Area Commander of the Nigerian Police, Nnadi James, said they were still on the lookout for more of the kidnappers' hideouts.
"We will continue to watch out for these kinds of things. We also urge the public to call our attention to any suspicious movements in their environments," he said.
"The police cannot know everything. If you see anything that you know is unusual in your area, you have to raise alarm."
He, however, warned members of the public against taking the laws into their hands by killing suspected criminals.
Currently, the suspected kidnappers who were arrested by the police are being interrogated at Isokoko Police station in the Agege.
When contacted, the Zonal Police Public Relations Officer in charge of Lagos and Ogun State, Dolapo Badmus, said she would not speak on the< matter.
"I am on leave, so I can't answer your questions," she said.