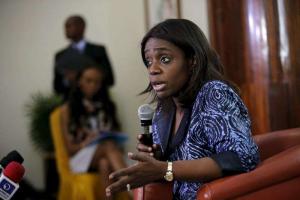 Although the Nigerian economy has returned to positive growth in the second quarter of 2017 and is expected to record at least a one per cent growth by the end of the year, analysts have said the country needs an accelerated growth of between six to seven per cent for the citizens to feel the impact of it.
Nigeria's Gross Domestic Product had grown by 0.55 per cent in the second quarter and is expected to grow further by the end of the year after four consecutive quarters of negative GDP growth.
The International Monetary Fund projects a growth of 1.9 per cent for the country by 2018, a position it said would be subdued by the population growth of the country.
This view was shared by the Managing Director and Chief Executive of Afrinvest West Africa, Ike Chioke, and the Managing Director and Chief Executive of Accion Microfinance Bank, Bunmi Lawson, at the weekend.
Speaking with The Next Edition, Lawson noted that for the country to have a meaningful growth that would translate into improved lives of ordinary Nigerians, there must be a growth of between six and seven per cent to complement the rate at which the population of the country was growing.
According to her, while there would be growth, Nigeria needed a growth that was at a faster level than what was obtainable presently.
"Population size alone we are ranges of growth between three to five per cent, so if you want economic growth to show per capital, that is per head, then the rate the economy is growing must be more than the rate the population is growing.
"So, if population is growing say at five per cent then for you to have a two per cent growth in per capital, you should roughly be growing at seven per cent and yet I do not see that growth in 2018," she stated.
To Chioke, the country may be said to be regressing as its economy is growing at a slower rate than its population rate.
"The fact that we have come out with a positive growth in the last quarter, everybody is applauding policy makers but remember once upon a time we used to grow at six to seven per cent per annum.
READ ALSO: BVN-less account owners risk losing funds
"So, how do we turn that positive growth and catalyse it to become six per cent trending towards 10 per cent. With a population growth of 2.8 per cent per year, 180 million people targeted to get to 300 million by year 2050 the challenge is that we actually are sort of regressing because our needs are growing faster than the income we are putting on the table."
On the way forward, both Lawson and Chioke advocated for reforms that would spur increased activities in the agric value chain as well as the power, oil and gas sectors.
Lawson had stated that "we need to diversify the economy away from oil and commodities. People talk about agric, yes we should be able to feed ourselves but agric in itself if it is just the raw materials is still a commodity. We need to be able to go into processing, manufacturing, things that add value beyond just taking something out of the soil and selling it."
Chioke on his part noted that "for us to achieve that social contract that government has made to its people we need to do further reforms. Reforms in the power sector to make it work for everybody, in oil and gas sector so that we understand that we can't wait for one commodity to pay for everything; we need all of us to come out and do what is necessary."
He added:  "We need further reforms in agriculture because we have seen very positive trajectory in agriculture in the last year and we have seen that agriculture can be the bread winner for this country and from there we can build a lot of agricultural businesses and industries.
"If we can do this right then indeed Nigeria will be setting the stage yet again in a growth trajectory and the challenge will be for the authorities to maintain and sustain that growth so that we get back to grow thing as fast as the population and maybe doubling up or tripling that number."