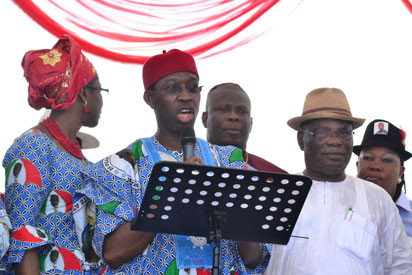 Protest greeted Delta State Consumption Tax as some people who simply identified themselves as stakeholders, on Tuesday, threatened legal action against the state government.
The state government recently, through the Internal Board of Revenue (DBIR), introduced the tax as a new law under the State Occupancy, Restaurants and Departmental Stores Consumption Tax.
But in a statement issued on Tuesday by Martin Adigbe and Festus Abbadah, chairmen and secretary respectively, the stakeholders said it was an aberration and a plot to divert funds.
The statement reads in part:  "We will not subscribe to it, it is condemnable and uncalled for. We will resist any attempt by the state government to enforce the tax on Deltans, we need meaningful development, and not arbitrary tax from Deltans."
The Executive Chairman of the DBIR, Monday Onyeme had last week appealed to residents in the state to patriotically comply with the new tax consumption law, disclosing that for effectiveness, the board had perfected its implementation  modalities.
Onyeme said the gradual dwindling finances particularly from the federation account, underscored the compelling need to introduce the new tax.
According to him, "the law, excluding Value Added Tax (VAT), imposes five per cent tax in the total bill issued to a customer, who pays for the use or possession of any hotel, facility or event centre or purchases consumable goods or services in any restaurant, whether or not located within a hotel; or goods and services within a departmental or supermarket in the state.
"While the tax is paid by the consuming public, the responsibility to collect the tax imposed is that of a person owning, managing or, controlling any business or supply any goods or services chargeable under section 3 of the law."
Onyeme stressed that the board, in the first phase, had engaged in deliberate sensitisation and enlightenment to prepare all stakeholders for compliance ahead of imminent implementation.