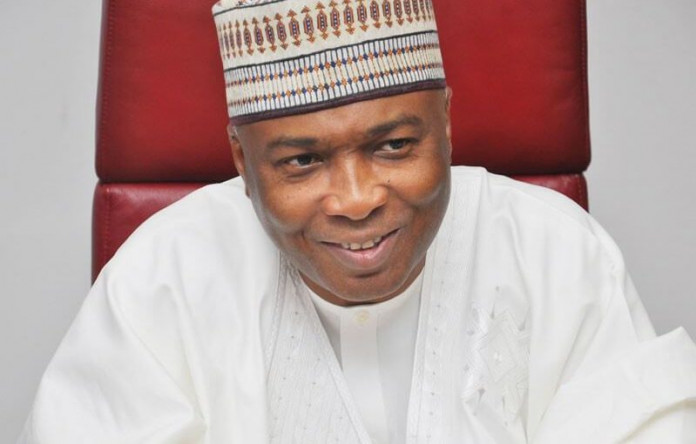 Former Senate President, Mr. Bukola Saraki, has visited Benue state, where he met with Governor Samuel Ortom and the State Working Committee members of the Peoples Democratic Party (PDP), as part of activities to kick start consultations for his 2023 Presidential elections.
Mr. Saraki was accompanied by former Governor of Kogi State, Idris Wada, former National Chairman of the PDP, Kawu Baraje, Senator Suleiman Adokwe and his Chairman of Council, Saraki for President Campaigns, Prof. Iyorwuese Hagher, among others.
Speaking during the visit, Saraki commended Benue people especially PDP stakeholders for supporting and standing by the Governor Samuel Ortom-led administration to succeed and survive the kind of siege the state has been put into under the present APC-led government.
He noted that the nation wide decamping of party loyalists from the APC into the PDP is an indication of the manner of leadership nothing that before the election, he was not sure anyone will still be remaining in the other party.
"A party that cannot organize its affairs has no business leading this country. A party that has organized its affairs is ready in leading this country and that is the PDP," he said.
READ ALSO: Female Actors And 'Immoral Content' Banned From Afghan TV
Saraki said the North Central Zone paid its due by working so hard in keeping the country together as one united entity saying "this time we must stand for our own and charity begins at home."
He said they have come to Benue to seek the advice and support of the Governor having led the party credibly well in the zone.
Receiving the former Senate President and his entourage, Governor Ortom said Saraki is one of those Nigerians that have contributed to the development of democracy in Nigeria.
Ortom who noted that it was time to rescue the country from bottom, a position it was placed by the APC government, to the top, said Saraki deserves the sit.
He said he will gladly support his candidature to enable him salvage the country from the current mess.
Chairman of the PDP in Benue state, Mr. John Ngbede, through his deputy, Mr. Isaac Mfo, said the party in the state is intact assuring that the Presidential hopeful was in the right domain.