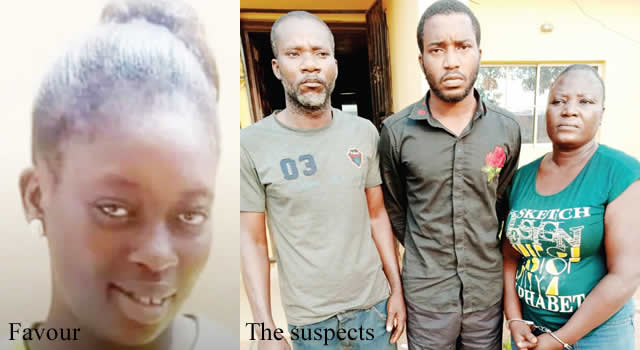 Homicide experts from the Osun State Police Command have exhumed the corpse of the Lagos State University (LASU) student, Seun Favour, allegedly murdered by a pastor, Segun Philips and her lover, Owolabi Adeeko, in Ikoyi-Ile, Osun State.
The State Commissioner of Police, Babatunde Kokumo, led the team that exhumed the corpse on Saturday.
According to Kokumo, the body was exhumed to enable the police to conclude investigation into the matter.
Addressing newsmen at the scene of the crime, the Commissioner of Police assured that churches in the neighbourhood would be investigated if the residents were uncomfortable with them or their proprietors.
"We are all aware of the gruesome killing of a student of LASU. The killing has been traced to Ikoyi-Ile.
"We have brought our homicide experts to exhume and help in the furtherance of the investigations started by the Ogun State Police Command with a view to prosecuting the suspects.
READ ALSO: Boyfriend Connives With Mother, Prophet, Kill LASU Final Year Student, Eat Remains
"It is a gruesome murder and the whole thing is quite horrible. We will not fold our arms and watch lawless citizens take laws into their hands, destroying people's lives. We have been informed that we have a number of churches in this community. It is our responsibility to conduct our investigation. What we are doing is intelligence policing driven by the people's needs.
"If the communities are making us know that they are no longer comfortable with the number of churches or the caliber of such people running the churches, then it becomes our responsibility to conduct an investigation on their activities and check them.
"My advice is that parents have a lot of roles to play. We have a lot of children in schools, the parents owe them the responsibility to make them to know that apart from their academic pursuit they must see to their moral training. It is only when the two are well combined that you can have a complete human being. They should see to the peer group they belong to," he said.
Meanwhile, one of the alleged killers of female student, Philips, said he killed her to experiment with what he read in the 'Seven Book of Moses.'
Philips, who was led around the scene of the crime alongside his accomplices, Owolabi Adeeko, and his mother, Mrs. Adeeko, told journalists that it was his first time of killing a person.
He said that the late Seun was thrown into a half dug well where she was dismembered and some organs removed before she was buried.